Wild Swims: Stories (Paperback)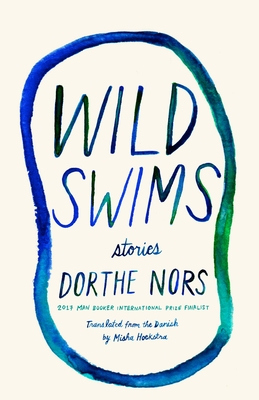 Description
---
A dazzling return to the short story by a finalist for the Man Booker International Prize

In fourteen effervescent stories, Dorthe Nors plumbs the depths of the human heart, from desire to melancholy and everything in between. Just as she did in her English-language debut, Karate Chop, Nors slices straight to the core of the conflict in only a few pages. But Wild Swims expands the borders of her gaze, following people as they travel through Copenhagen, London, Los Angeles, Minneapolis, and elsewhere.

Here are portraits of men and women full of restless longing, people who are often seeking a home but rarely finding it. A lie told during a fraught ferry ride on the North Sea becomes a wound that festers between school friends. A writer at a remote cabin befriends the mother of an ex-lover. Two friends knock doors to solicit fraudulent donations for the cancer society. A woman taken with the idea of wild swims ventures as far as the local swimming pool.

These stories have already been featured in the pages of New Yorker, Harper's Magazine, Tin House, and A Public Space. They sound the darker tones of human nature and yet find the brighter chords of hope and humor as well. Cutting and offbeat without ever losing its warmth, Wild Swims is a master class in concision and restraint, and a path to living life without either. With Wild Swims Nors's star will continue to be ascendant.
About the Author
---
Dorthe Nors is the author of Mirror, Shoulder, Signal, a finalist for the Man Booker International Prize; So Much for That Winter; Karate Chop, the winner of the Per Olov Enquist Literary Prize; and four other novels. She lives in Denmark.

Misha Hoekstra is an award-winning translator whose recent work includes the translation of Mirror, Shoulder, Signal by Dorthe Nors. He lives in Aarhus, where he writes and performs songs under the name Misha Hoist.
Praise For…
---
"These stories are a dark reflection of all of us, blinkered by our hang-ups and our insistent desires."—The New York Times Book Review

"The 14 stories in the book are mesmerizing, addictive. Each one is just a few pages, written in an oblique, poetic style that arrives at its conclusion through indirection. [Nors] has an uncanny ability to capture the way the human mind works, with disparate memories and ideas running simultaneously along different tracks."—The Associated Press

"[Dorthe Nors] is a master of tracking the hits and misses of human connection. If she were a surgeon, she would cut with the cleanest of lines."—Literary Hub

"Nors's deft touch gives rise to her unusual way of structuring her stories; in the hands of a less refined prose writer, it would all seem a mishmash. . . . Nors isn't interested in mere euphony, but in using language to capture ephemeral moments of being. Her tone always comes through in translation. . . . Her work is engaging on multiple levels."—Slant Magazine

"Nors is an innovator, and other innovators haunt her pages. Yet despite the deeply internal conflicts of these stories, the author successfully manages to bring the reader into the interior experience of her characters, and it is often uncomfortable, not easy to bear. . . . These are daring, untraditional stories."—Fiction Writers Review

"Cool, razor-sharp stories by a brilliant Danish writer. . . . Irony and narrative sleights of hand (like the precisely planted out-of-place word, an obsessive thought that gets whittled down to its shameful source, the swerve of an unexpected final line) shape-shift these beautiful distilled stories."—Kirkus Reviews, starred review

"Throughout, remarkable characters and wonderful lines emerge from the artful prose. [Wild Swims] is worth downing in one sitting."—Publishers Weekly

"Masterful. . . . Nors weaves these somber tales of longing and disappointments with humor and bits of hope."—Booklist

"Exquisite. . . . Nors is the queen of concision."—Harvard Review
We appreciate your continued support!
If you would like to make a donation to help us through CLICK HERE.