CONCUSSION, TRAUMATIC BRAIN INJURY, mTBI ULTIMATE REHABILITATION GUIDE: Your holistic manual for traumatic brain injury rehabilitation and care (Paperback)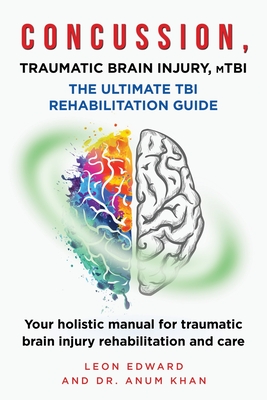 $20.69

Available in our Warehouse: Usually Ships in 3-8 Days
Description
---
From Concussions or mTBi to traumatic brain injury, this book is the best guide in learning about TBI scientifically and practically, so you are ready to take the right action at the right time to limit the damage and overcome challenges that come with it, both as the caretaker and as the patient.
From understanding symptoms and diagnosis with early recovery to long-term goals, covered are the mechanics, anatomy, symptoms of brain injury, diagnosis, levels, acute management and treatment options, rehabilitation, early recovery, outcomes of tbi, mtbi or concussion, discharge plan, post-concussion syndrome, what to expect, goal setting, outpatient rehabilitation therapies, caregiving at home, caretaker fatigue. Provided are online resources, tips for living your best life with action tables for dealing with fatigue, symptoms, tips for cognitive impairment, Emotions, Communication issues, and Behavior issues. Traumatic Brain Injury is a silent global epidemic, and the outcome of this tragic event spans a wide spectrum of symptoms, future complications and disabilities. While prevention is the cure, it is an undeniable fact that living with Traumatic Brain Injury is a real challenge.
The good news is that with the right knowledge and approach, you can live a normal life after TBI.
Contents Included: (for detail see 'Look Inside' feature on Amazon)
UNDERSTANDING THE MECHANICS OF TBI
PRIMARY INJURIES
Second Impact Syndrome (SIS)
SECONDARY INJURIES
Protection and Symptoms
Testing and Diagnosis
THE FIRST FEW DAYS IMPORTANCE
EARLY RECOVERY AFTER TBI
Rehabilitation
Caregiving at home
Caretaker Fatigue
Imaging Technology
Neurosurgery
Intensive Care
Medication
Recovery
Coma
Post-Concussive Syndrome
When to return to the hospital?
How to feel better?
LONG-TERM GOALS
MILD TBI AND CONCUSSION
Impact
Coping with Mtbi
Headaches
Sleep Patterns and Life Routine
Mood
Cognition
Sexual
Vocational and Educational Empowerment
Prevention and Recurrence
COGNITIVE IMPAIRMENT and TIPS
BEHAVIOR and TIPS
EMOTION and TIPS
COMMUNICATION and TIPS
Conclusion About the Authors Leon Edward and Dr. Anum Khan

For Leon Edward, the past 35 years since the tbi left one lingering desire: the need to give something back, a way to provide something meaningful for the families and loved ones of patients who will face the same painful disruption of their lives and the same long journey he had to undertake. "I want to be clear in the introduction that I am not a health professional as my co-author Dr. Khan, but rather an engineer that has had a tbi" - Leon Edward

This book was written by one deeply caring brother for his brothers and sisters suffering the same or even a worse fate after surviving traumatic brain injuries - and with deep admiration and appreciation for their families and caretakers who will help to guide them.

For Leon it has become an ingrained part of his existence to help others enjoy life after suffering serious injuries especially living alone after a TBI, even if it only means that he can help others who are disabled or living alone with words of hope, encouragement of inspiration.

Dr. Anum Khan enjoys crafting health content that genuinely helps the readers in a practical and insightful way. She believes that a healthy life is everyone's right, and it must be taught in an easy and effective manner using the most authentic information and relatable voice.

This book comes with the same intent: To help sufferers, families, professionals learn more about TBI with a holistic approach, and to equip them with all the knowledge they will need on this journey.


Scroll to the top of the pageReview detail contents, 'Look Inside'
and Buy Now Thanks