Flibbertigibbety Words: Young Shakespeare Chases Inspiration (Hardcover)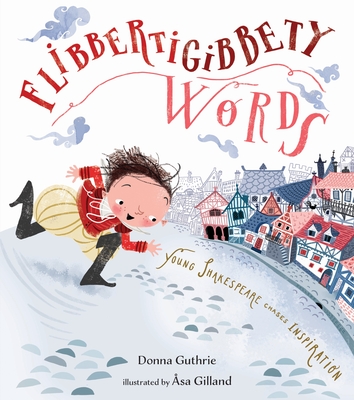 $18.99
This item is not currently available to order.
Description
---
With quotes and sly references to the famous works of William Shakespeare and the words he invented, this adventurous ode to language will delight readers young and old.

It all starts one morning when words fly into William's window. He wants to catch them, but they are flibbertigibbety and quick and slip right through his fingers. Soon whole lines of verse are leading him on a wild goose chase as they tumble, dip, flip and skip all through town, past a host of colorful characters the observant reader may find as familiar as the quotes. William remains persistent, and with time and the proper tools he finds a way to keep the words with him.
About the Author
---
Donna Guthrie is a writer, documentary filmmaker, playwright, and lecturer whose many books for children include I Can't Believe It's History!, Putting on a Play, and Mrs. Gigglebelly Is Coming for Tea. She graduated from Vermont College with an MFA in Children's and Young Adult Writing. When she's not attending Shakespeare Festivals all over the western US, she lives in Colorado Springs, Colorado.

Åsa Gilland is a Swedish illustrator living in Jakarta, Indonesia, who produces art for textiles, stationery, home décor and the gift market. She studied interior design at Accademia Italiana Moda and has been designing and illustrating for 20 years. She visited Stratford-upon-Avon as a child and has poured her obsession with Shakespearean history into her first picture book.
Praise For…
---
* "A comic introduction to the plays and words of Shakespeare that's lighthearted and sure to please…This cheeky, kid-friendly tale is full of creativity and humor and will work for many age groups on many levels—and it answers the age-old question of where authors find ideas (and words)." – Kirkus Reviews, starred review

"An energetic story, driven by merry phrasing, will introduce the playwright and some of his famous quotes to younger readers and encourage budding wordsmiths." – School Library Journal