Whole Grain Sourdough at Home: The Simple Way to Bake Artisan Bread with Whole Wheat, Einkorn, Spelt, Rye and Other Ancient Grains (Paperback)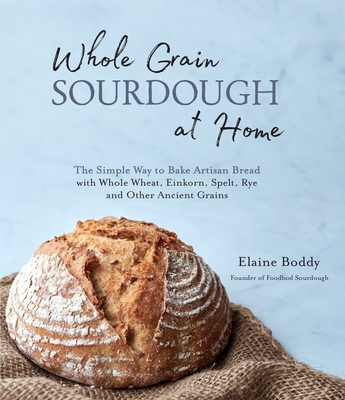 $21.99

Available in our Warehouse: Usually Ships in 3-8 Days
Description
---
Make Delicious, Whole Grain Bread with Minimal Kneading
* Selected as one of the best cookbooks of 2020 by delicious. magazine! *

Baking a loaf of beautiful crusty bread can be intimidating when you want to include nutrient-dense whole wheat flour and other ancient grains that are famously harder to work with. Elaine Boddy is here to help. She has spent many years honing the science and art of baking bread with whole grains in her home kitchen. In Whole Grain Sourdough at Home, she shares all of her secrets with you. Elaine's master recipe and philosophy for bread making are all about simplicity, flexibility and having fun. Sourdough does not have to be complicated or require a lot of hands-on work to be great. With one bowl, a handful of simple ingredients, minimal kneading and less than 24 hours, you can have a loaf of delicious whole grain sourdough bread on the table.

Elaine has mastered the unique nuances of nutrient-dense flours like whole wheat, einkorn, spelt and rye to create a variety of lovely breads—no dense whole wheat bricks here! Packed with a step-by-step sourdough starter guide, plenty of tips and tons of recipes for everything from sandwich loaves to focaccia, this book gives you everything you need to bake amazing whole grain bread today, tomorrow and beyond.

This book has 60 recipes and 60 photographs.
About the Author
---
Elaine Boddy is the founder of the blog foodbod Sourdough, where she has helped thousands in the online sourdough community bake perfect loaves right in their own kitchens. She also teaches classes on sourdough. Elaine and her family live in Milton Keynes, England.
Praise For…
---
"For bread beginners looking to eschew plain white loaves and avoid excess explanation and jargon, home baker Elaine Boddy's thorough book is a smart place to start. It has a full guide to making a starter, and her simple one-bowl process promises swift success."–delicious. magazine

"If you're interested in sourdough, this is the only book you need. I defy anyone not to produce a decent sourdough using Elaine's master recipe. Once you've done that, Elaine has done all the experimenting so you can get creative with different grains and techniques." –Orlando Murrin, President, Guild of Food Writers

"Elaine's recipes are simple to follow, foolproof and utterly delicious. In her book, you will learn to bake artisanal sourdough like a pro without any unnecessary jargon. This is a book that belongs in every baker's kitchen arsenal." –Hanady Nabut, founder of hanadykitchen.com

"Elaine has a real passion and a genuine desire to demystify the confusing world of sourdough baking. She removes the fear and inspires you to give it a go. This book will allow you to understand the process, explained in layman's terms with step-by-step instructions, that thousands of people worldwide have used successfully to make sourdough. Sourdough is simply the best bread you can eat and Elaine is simply the best teacher. Her book will have you confidently baking sourdough in no time. Learning to make your own sourdough is a life skill well worth acquiring, and this book will set you on that path with ease."–Janice Clyne, founder of Nourished by Nature

"What I love most about this book is the way it came about. Elaine has dedicated the last few years of her life to her social media pages where she personally answers every single question posed to her about sourdough. That's hundreds of questions. This book isn't based on what she thinks people should know about sourdough—she knows better than anyone what people actually do want to know. Add this to Elaine's simple, delicious and reliable method, and you have a recipe for success."–Simon Page, Manager, Waitrose Cookery School Manager

"I have always baked yeasted bread but wanted to learn about sourdough. Elaine's approach is clear, uncomplicated and the results are fantastic time after time. What else I love about the book is the variety of recipes to use my starter with so I don't throw any of mine away. Elaine's book gave me the confidence to start to explore using ancient grains too in my bread making. I love the flavour of these types of flours but was unsure on how they worked, I have now had some delicious results using these recipes. Her Einkorn ones are my favourite, again never heard of it before discovering Elaine."–Jessica, Tutor, Waitrose Cookery School, @bread.geek

"Wholegrain Sourdough at Home is an inspiring book, full of recipes for both health and our pleasure. Demystifying the art of sourdough baking, Elaine cleverly guides us to explore beyond the delicious white loaf to embrace a wide variety of whole and ancient grains. With her foolproof, easy and remarkably straightforward method, baking bread has become my kitchen meditation. This book will become the only bread book you will want to use."–Kellie Anderson, MSc., cancer health educator and author at KelliesFoodToGlow.com

"I cannot recommend Elaine's first cookbook highly enough. Elaine makes sourdough baking doable even if you are a complete beginner. Most bread baking cookbooks are full of rigid rules. Elaine follows one personal rule and one only: keep it simple. And it works. I haven't had a single of her recipes disappoint me, and I look forward to trying the more unusual flour compositions she shares in this must-have book."–Sally Newton, founder of BewitchingKitchen.com

"I first met Elaine on Instagram. Using some of her dried starter and her Master Recipe, my first sourdough loaf was a triumph, as has every loaf been since then! I've also attended one of Elaine's sourdough courses, and learned so much that I now consider myself to be very accomplished at sourdough baking. I'm thrilled that Elaine has written this book. Her expertise and creativity will be a boost to the world of sourdough baking, especially in debunking the myth that making sourdough bread is hard."–Karen Burns-Booth, author of Lavender & Lovage