Written in Starlight (Hardcover)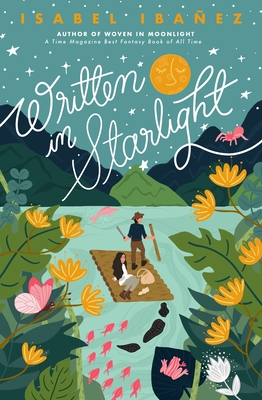 Description
---
If the jungle wants you, it will have you.

Catalina Quiroga is a condesa without a country. Shes lost the Inkasisa throne, the loyalty of her people, and her best friend. Banished to the perilous Yanu Jungle, Catalina knows her chances of survival are slim, but that wont stop her from trying to escape. Her duty is to rule.

While running for her life, Catalina is rescued by Manuel, the son of her former general, who has spent years searching for allies. With his help, Catalina could find the city of gold thats home to the fierce Illari people and strike a deal with them for an army to retake her throne.

But the elusive Illari are fighting a battle of their owna mysterious blight is corrupting the jungle, laying waste to everything they hold dear. As a seer, Catalina should be able to help, but her ability to read the future in the stars is as feeble as her survival instincts. While on her journey, Catalina must reckon with her duty and her heart to find her true calling, which is key to stopping the corruption before it destroys the jungle completely.
About the Author
---
Isabel Ibaez is the author of Woven in Moonlight (Page Street), which received two starred reviews and earned praise from NPR. She was born in Boca Raton, Florida, and is the proud daughter of two Bolivian immigrants. Isabel is an avid moviegoer and loves hosting family and friends around the dinner table. She currently lives in Winter Park, Florida, with her husband, their adorable dog, and a serious collection of books. Say hi on social media at @IsabelWriter09.
Praise For…
---
Equal parts lush and lethal, Written in Starlight swept me into a jungle full of forbidden romance and breathtaking danger. Catalinas search for the lost city rivals only her search for self discovery, and both make for a page-turning read. This book is solid gold. Shelby Mahurin, New York Times bestselling author of Serpent & Dove and Blood & Honey

Lush, dangerous, and addictive. This jungle feels alive, and Isabel has given us the most perfectly unprepared heroine to explore it. Adalyn Grace, New York Times bestselling author of All The Stars And Teeth

Written in Starlight is not merely an adventure novel, its a rich, heart-pounding story of romance, dangerous jungles, and the search for a city of gold. Isabels second novel is everything I hoped it would be! Shea Ernshaw, New York Times bestselling author of Winterwood

Catalinas journey is full of things I love: a lush setting where danger lurks at every turn, celestial magic, friends found in unlikely places, and a slow burning romance that stole my heart. A compelling and perfect companion novel to Isabels debut. Rebecca Ross, author of Sisters of Sword & Song

Praise 2020s breakout YA fantasy Woven in Moonlight:

"In Ibaezs debut novel, every detail is rich with meaning and nuance. [Woven in Moonlight] showcases a fantasy world that transcends traditional Western tropes and underscores the value of complex female characters." TIME, "The 100 Best Fantasy Books of All Time"

Woven in Moonlightappropriatelyweaves a beautiful spell that takes culturally specific details and spins them into an engaging fantasy world. NPR

A nuanced and empathetic fantasy. BookPage, starred review

Spins a satisfying tale of adventure, romance and magic. Shelf Awareness, starred review

Pure magic. Shelby Mahurin, New York Times bestselling author of Serpent & Dove

A lush, vibrant feast of a book. Margaret Rogerson, New York Times bestselling author of A Sorcery of Thorns

A wholly unique book for the YA shelf. Adrienne Young, New York Times bestselling author of The Girl the Sea Gave Back
We appreciate your continued support!
If you would like to make a donation to help us through CLICK HERE.