The Beginner's Guide to Gluten-Free Vegan Baking: 60 Easy Plant-Based Desserts for Any Occasion (Paperback)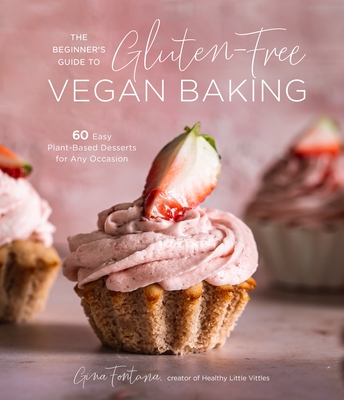 $21.99
This item is not currently available to order.
Description
---
Show Stopping Gluten-Free and Vegan Baked Goods for Every Craving

Gina Fontana, founder of the Healthy Little Vittles blog, has cracked the code to baking without dairy, eggs and gluten. In this game-changing guide she shares 60 foolproof recipes plus essential tips and tricks for avoiding common gluten-free vegan baking mishaps. Finally, you can satisfy any sweet craving, regardless of dietary restrictions!

Now, it's easy to create comforting classics you may have thought impossible to make plant-based and gluten-free, including fudgy brownies, creamy cheesecake and crème brûlée with a perfectly caramelized top. Chapters are organized by techniques like egg swaps, dairy and butter alternatives, batter consistency and natural sweeteners, so you'll learn to problem-solve while building your baking repertoire. From Perfectly Spiced Carrot Cake and Bourbon Peach Ice Cream to Edible Chocolate Chip Cookie Dough and Apricot Pie Pops, the simple yet delicious options are endless.

Packed with invaluable information and 60 gorgeous full-color photo-graphs, this is the must-have handbook for anyone interested in crafting exceptional sweets that just happen to be gluten-free and vegan.
About the Author
---
Gina Fontana is the founder of the popular blog Healthy Little Vittles, where she posts delicious vegan and gluten-free recipes. Her work has been featured on feedfeed, One Green Planet, and Simply Gluten Free. She lives in Columbus, Ohio.
Praise For…
---
"The easy vegan treat you didn't even know you were dreaming of is waiting in this book, I promise. And Gina's sweet simple style will have you enticed from cover to cover!"
-Natalie Thomas, creator of Feasting on Fruit

"This book is perfect for anyone looking for approachable gluten-free and vegan desserts!"
-Jessica Hoffman, creator of Choosing Chia

"Every time I make one of Gina's recipes, it always turns out better than I could have imagined. Everyone needs a copy of this book!"
-Ciarra Siller, creator of Peanut Butter Plus Chocolate and author of Vegan Chocolate Treats

"Gina's desserts are not only beautiful to look at but they're also full of nourishing ingredients. Within this book you'll find endless inspiration and tips to help you succeed in gluten-free vegan baking."
-Yukiko Tanzi, creator of Foodie Yuki

"This book is fabulous for the beginner but will also recharge even the most seasoned chef with its must-make imagery and drool-worthy recipes."
-Dustin Harder, creator of The Vegan Roadie