The Vegan Middle Eastern Cookbook: 60 Irresistible, Plant-Based Recipes from North Africa, the Levant, the Arabian Peninsula and Beyond (Paperback)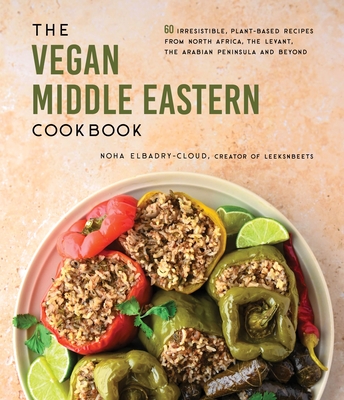 Description
---
Your Favorite Dishes from the Middle East Made Deliciously Vegan

Unlock a whole new realm of plant-based cooking as you celebrate the rich, vibrant flavors and traditional ingredients that make Middle Eastern fare so diverse and delicious. From Noha Elbadry-Cloud, creator of the popular food account @leeksnbeets, comes the ultimate guide to cooking perfectly veganized meals from this vast, enthralling region.

This collection of 60 mouthwatering recipes is filled with iconic basics like The Best Ever Pita Bread, magnificent mains like Baby Potato and Jackfruit Tagine and Beef-Style Seitan Shawarma Wraps with sumptuous sides like Baba Ghanouj. And with delectable desserts like Walnut Pecan Baklava and Basbousa, there's something here for every taste and occasion. So what are you waiting for? Embark on an inspiring culinary journey through the flavors of the Middle East, all while staying true to your vegan lifestyle.
About the Author
---
Noha Elbadry-Cloudis the recipe creator of @leeksnbeets. Her work has been featured in the Vegan Bowls Simple Swaps cookbook as well as by various top vegan accounts on Instagram, including Plantd, feedfeedvegan and PBN Food. Originally from Egypt and raised in the Middle East, Noha currently lives with her husband in a little cottage in Southern Arkansas.
Praise For…
---
"A fascinating cookbook, with Noha's personal stories and cultural insights adding depth to the culinary experience. Whether you're a seasoned vegan cook or new to plant-based eating, this book is a must-have."
—Vegan Bowls™

"This book is brimming with the best that Mother Earth has to offer: Bold, vegan dishes that excite the palate and quintessential Middle Eastern flavors."
—Lisa Thompson, Senior Food Editor at feedfeed

"Noha is the queen of Middle Eastern flavor! Her veganized dishes are respectful and revering of authentic tastes, her artistry is incredible and her love for her culture shines bright in these recipes."
—Sara Tercero, author of Plant-Based Diet in 30 Days

"Noha's recipes are packed with color, spice and soul. The dishes in these pages are vibrant and inspirational for anyone looking for a plant-based twist on traditional Middle Eastern classics!"
—Shahir Massoud, author of Eat, Habibi, Eat!

"This cookbook takes vegan Middle Eastern dishes to the next level. Noha's recipes are vibrant, creative and loaded with flavor."
—Nisha Melvani, author of Practically Vegan

"Noha delightfully shares Middle Eastern cuisine that is both approachable and true to her roots while still being delicious and plant-based. With all the colors and flavors in this book, you are bound to have many favorites added to your recipe rotation."
—Catherine Perez, registered dietitian and creator of Plant Based RD

"Noha's veganized Middle Eastern recipes are filled with everything you could want and more. From delicious basics like pita bread to soups, stews, mains, and yummy desserts, she has you covered!"
—Francesca Bonadonna, author of Plantiful

"Noha's cookbook is vibrant, fun and skillfully crafted, providing home cooks with a chance to enjoy mouthwatering Middle Eastern dishes that are not only delicious but nourishing as well."
—Janet Gronnow, author of 15-Minute Vegan Meals