The Autoimmune Keto Cookbook: Heal Your Body with Delicious AIP-Compliant Recipes and Meal Plans (Paperback)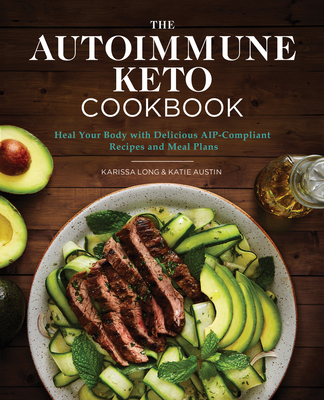 $19.99
This item is not currently available to order.
Description
---
Tasty autoimmune keto recipes and meal plans for relieving your disease symptoms
When it comes to managing your health, a ketogenic diet can help.
The Autoimmune Keto Cookbook
takes a keto, AIP-friendly approach to relieving autoimmune disease symptoms and improving overall well-being. Three weeks of meal plans and 85 delicious recipes make a ketogenic diet approachable for everyone.
The Autoimmune Protocol (AIP) calls for the elimination of inflammation-causing foods for a period of time. Half of the recipes in this ketogenic diet book are AIP-compliant, and you'll also find each one conveniently labeled either "AIP Elimination Phase" or "AIP Reintroduction Phase." That way, you can eat the food that works most effectively for your body without sacrificing flavorful, satisfying meals.
This ketogenic diet cookbook includes:
Autoimmune info—Learn about what autoimmune diseases are, what can cause them, the link between diet and disease, which foods to eat and avoid, what AIP is, and more.
Plan your macros—Discover practical methods for eating the right ratio of macronutrients for achieving ketosis and maintaining a ketogenic diet.
A guide to reintroduction—Get tips for reintroducing certain foods in phases once your symptoms have dissipated, as well as a tracker for recording dates and reactions.
Relieve your autoimmune symptoms with mouthwatering meals centered around the ketogenic diet and lifestyle—
The Autoimmune Keto Cookbook
can show you how.
About the Author
---
"
Karissa Long is a global health coach and wellness expert. After using the autoimmune protocol to successfully heal her body and put her ulcerative colitis in remission, Karissa has taken everything she learned through her own health journey and has made it her mission to help others achieve optimal health.

Katie Austin is an executive chef and recipe developer who, after years of trying different treatment methods in an attempt to control her autoimmune diseases, discovered the autoimmune protocol and experienced a health transformation. Her goal is to make AIP cooking easy, attainable, and beautiful.
"
Praise For…
---
"While following an autoimmune ketogenic diet can seem challenging, Karissa and Katie offer an approach that allows this way of eating to be easily adapted for even the most novice of cooks. This book will ensure that you have all of the practical tools and resources available to you to successfully reduce bodily inflammation—and enjoy delicious food along the way!"—Sara Nelson, keto recipe blogger at Real Balanced

"The authors of the Autoimmune Keto Cookbook have used their creative talents and personal experiences to create a beautiful, informative book full of delicious and original recipes to help everyone who reads it understand why adapting a 'clean keto' lifestyle is so effective—and how easy and scrumptious it can be!"—Annabelle Lee, author of the Ultimate Grain-Free Cookbook, founder and creator of California Country Gal Breads & Baking Mixes