Reclaim Your Life From Hoarding: Practical Strategies for Decluttering Your Home, Organizing Your Space, and Freeing Yourself (Paperback)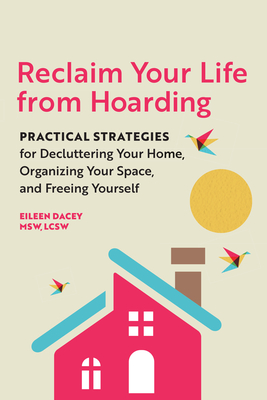 $12.99
This item is not currently available to order.
Description
---
Declutter your life, create space, and find peace with your belongings
Our possessions can be a fun window into the past, who we are, and what we hold dear—but sometimes all that stuff can get in the way of everyday life. If you identify as a clutterbug or are feeling a little overwhelmed with all your stuff, the straightforward guidance in this book will help you get organized and feel more in control of your home—and your life.
This easy-to-follow hoarding workbook gives you strategies for decluttering, prioritizing your goals, and building a support team before walking you through the process room by room. With advice on both how to sort through your items and change the way you acquire things, you'll gain the confidence you need to succeed.
Inside this standout among hoarding books you'll find:
Real talk—Read stories about how other people who struggle with clutter have found ways to cope and reduce their belongings.
Self-care strategies—Each chapter has a tip to help you focus on taking care of yourself with thoughtful, stress-relieving suggestions.
Action plan—Simple but productive exercises will help you make lasting changes through manageable steps and everyday actions.
Take control of the possessions in your life with this book's gentle guidance.
About the Author
---
EILEEN DACEY, MSW, LCSW, is program director for the North Shore Center for Hoarding and Cluttering. When she is not working, she enjoys playing tennis and spending time with her beagle, Darwin.
Praise For…
---
"Eileen's clinical knowledge and successful hands-on experience are evident in every chapter of this must-read book both for people experiencing hoarding and for the professionals who encourage and support the journey." —Edward R. Chase, Chair of MA Statewide Steering Committee on Hoarding

"I have worked with Eileen on many cluttering and hoarding cases, and this book is a great resource to anyone facing this disorder. Eileen's compassion and knowledge shine through!" —Richard Ciarletta, Cleaning & Restoration Contractor

"This book brings the reader to a new level of understanding about the causes, impacts, and treatment of hoarding disorder. With a compassionate and relatable voice, Dacey shares what she has seen work successfully in helping people move forward in reclaiming their lives from clutter. Packed with techniques and resources, this book provides hope as well as a strategic game plan for people struggling to break free from the impact of hoarding disorder." —Susan Stone MBA MSW, Certified Organizing Coach

"While many books address the issue of hoarding, this is the first to walk side by side with you on your journey for change. Eileen's strong understanding of the mental health aspect of hoarding, along with her extensive experience in working with individuals in their homes, results in a compassionate, practical, and most importantly, a doable guide for making sustainable change in your home and in your life." —Marnie Matthews, LCSW, Founder of The Clutter Movement