The Creative Screenwriter: 12 Rules to Follow—and Break—to Unlock Your Screenwriting Potential (Paperback)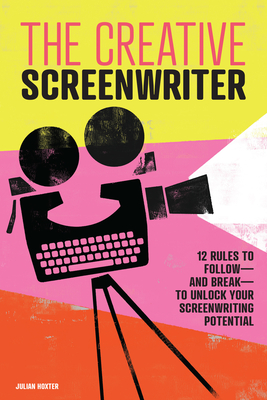 $16.99
This item is not currently available to order.
Description
---
Master the craft of screenwriting—12 steps to bring your creative vision to the screen
It can be difficult to find a modern resource that teaches you the nuts and bolts of screenwriting while also allowing you the freedom to creatively thrive. This guide distills the craft of screenwriting into 12 key elements, from developing your story to revising and rewriting, plus plenty of inspiration to create your own screenplay with confidence.
Discover what to expect within the film industry and how it has evolved. Look behind the scenes at iconic films using a classic structure of screenwriting, along with experimental films from innovative writers that have transcended the rules and paved their own way to the silver screen. Then, get to the exciting part—writing—using a dozen tried-and-true rules of the trade. Each chapter is accompanied with an In the Writer's Room creative exercise, such as formatting your script, mapping sequences, and creating rich dialogue and characters, to deepen your understanding of what brings a screenplay to life.
This screenwriting guide includes:
Filmmaker's dozen—From loglines to creating a compelling character to root for, you'll find 12 fundamental but flexible steps to help you craft a powerful, creative screenplay.
Topline terminology—Navigate the film biz like a pro with need-to-know Hollywood jargon, plus troubleshooting tips for any screenwriting hiccups along the way.
Film archive—From William Goldman's The Princess Bride to Taika Waititi's Jojo Rabbit, discover emerging and timeless screenwriting techniques used in Hollywood blockbusters, micro-budget films, and more.
Take your story from creative conception to complete script with this modern, 12-step approach to screenwriting.
About the Author
---
JULIAN HOXTER is an associate professor and screenwriting coordinator at San Francisco State University where he has taught and practiced screenwriting for more than 20 years. He is a produced screenwriter and a professional script consultant. His screenplays have won three competitions and have been finalists in many more.
Praise For…
---
"The Creative Screenwriter is an eloquently simple, effortlessly friendly, invariably helpful, and most importantly, scrupulously honest guide from a writer whose knowledge of the subject is deep and up to date. Julian Hoxter will teach you how to write a screenplay but also how your writing fits into the rapidly changing media industry. Highly recommended." —Scott Winfield Sublett, author of Screenwriting for Neurotics

"The Creative Screenwriter is exactly what every first-time writer needs to read. Julian Hoxter has once again written an accessible guide for all those would-be screenwriters out there who are paralyzed by the blank page and the daunting structure of a screenplay. Informed by his many years of teaching undergraduate students, Hoxter presents a helpful guide that anyone can follow. His usual humor, industry knowledge and relatable writing style makes The Creative Screenwriter the perfect introduction to the screenwriting craft that empowers any person to be the best writer possible." —Michael Whalen, Knight Ridder/Mercury News Endowed Professor, Santa Clara University