Hashimoto's Diet for the Newly Diagnosed: A 21-Day Elimination Diet Meal Plan and Cookbook (Paperback)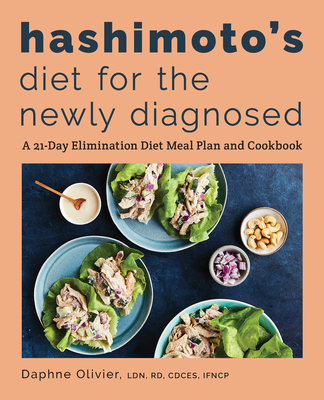 $16.99
This item is not currently available to order.
Description
---
A stress-free diet and lifestyle guide for managing your Hashimotos diagnosis
While a Hashimotos thyroiditis diagnosis is an essential first step toward taking control of your health, it can be overwhelming. What's more, implementing lifestyle changes like an elimination diet, especially when you're struggling with severe symptoms like fatigue and unexplained weight gain, can feel formidable. But, rest assured,
Hashimoto's Diet for the Newly Diagnosed
is your helpful companion to getting on the right path to a healthy, symptom-free life, starting with what you eat.
With 75 healing recipes and a 3-week meal plan complete with shopping lists, this Hashimotos diet cookbook has everything you need post-diagnosis to prepare delicious meals that will nourish your body and help alleviate your Hashimotos symptoms. By starting off with a simpler approach to the traditional elimination diet,
Hashimoto's Diet for the Newly Diagnosed
will teach you how to listen to your body and build your "You Diet" for optimal health and well-being.
This complete Hashimotos diet cookbook and meal plan for beginners includes:
Easy-to-digest science—Understand the ins and outs of your Hashimotos diagnosis, including the critical connection between this thyroid condition and your diet.
Comforting and nourishing recipes—From breakfast to dinner to snacks, these recipes call for familiar ingredients and may require less than 30 minutes to make, can be made in one pot or pan, or are ideal for doubling and freezing for a quick meal any day of the week.
Building a support system—Learn which questions to ask your healthcare practitioner, how to effectively communicate the details of your Hashimotos diagnosis with loved ones, and more.
If you've been recently diagnosed with Hashimotos thyroiditis, here's the all-in-one cookbook and meal plan that's perfect for you.
About the Author
---
Daphne Olivier, LDN, RD, CDCES, IFNCP, is a registered dietitian, integrative and functional nutrition certified practitioner, certified diabetes care and education specialist, and certified LEAP trainer, as well as the founder of her private practice, The Unconventional Dietitian. A passionate foodie living with Hashimoto's thyroiditis, she understands firsthand the importance of diet in managing a diagnosis. Daphne lives in Lafayette, Louisiana, with her family.