The Easy Autoimmune Protocol Cookbook: Nourish and Heal with 30-Minute, 5-Ingredient, and One-Pot Paleo Autoimmune Recipes (Paperback)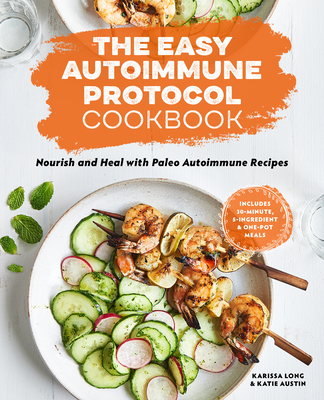 Description
---
Nourish your body and regulate your immune system—the autoimmune protocol simplified
The autoimmune protocol (AIP) was developed around a simple, science-backed concept: What we eat—or don't eat—has the ability to powerfully impact our health. By eliminating foods that trigger a negative immune response and nourishing the body with foods that heal, this protocol was designed to help those living with autoimmune diseases reverse and manage their symptoms, and achieve optimal well-being. Written by two longtime immune disease sufferers,
The Easy Autoimmune Protocol Cookbook
makes this protocol both approachable and delicious.
With a thorough explanation of the science behind the protocol, more than 100 satisfying and healing recipes like Pumpkin Waffles and Pork Chops with Peaches and Parsnips created with ease and flavor in mind, as well as a sample meal plan to get you started, this book takes the guesswork and intimidation out of the protocol, and provides you with everything you need to take the first steps toward healing.
The Easy Autoimmune Protocol Cookbook
includes:
Practical, everyday recipes—This book contains more than 100 recipes—many of which require no cooking, take 30 minutes or fewer to make, call for 5 or less ingredients, or can be made one pot or pan.
Straightforward science—Understand how and why the autoimmune protocol works, including the role food plays in causing or taming inflammation, damaging or repairing the lining of the gut, and more.
Accessible, nourishing ingredients—Many of the book's recipes focus on incorporating fresh and familiar whole foods into your diet, as well as introduce you to healing ingredients you may not have used before, but will soon become staples in your AIP kitchen.
This book takes the complex autoimmune protocol diet and makes it simple and realistic!
About the Author
---
"
Karissa Long is a global health coach and wellness expert. After using the autoimmune protocol to successfully heal her body and put her ulcerative colitis in remission, Karissa has taken everything she learned through her own health journey and has made it her mission to help others achieve optimal health.

Katie Austin is an executive chef and recipe developer who, after years of trying different treatment methods in an attempt to control her autoimmune diseases, discovered the autoimmune protocol and experienced a health transformation. Her goal is to make AIP cooking easy, attainable, and beautiful.
"
Praise For…
---
"Karissa Long and Katie Austin make changing your eating habits easy. The Easy Autoimmune Protocol Cookbook recipes are delicious, super easy to prep and cook, and take the hard work out of trying to figure out what and how to eat to reduce inflammation. They are my go-to resource!" —Loretta Reilly, Vice President of Marketing at Ultima Health Products, Inc.

"Whether you're starting your journey toward healing your body through food or are already a pro, Karissa and Katie will show you how healthy food can be both delicious and easy. These approachable and tasty recipes make eating healthy convenient and fun. The Easy Autoimmune Protocol Cookbook is a must-have resource to guide you on your wellness journey!" —Ellis McCue, CEO, Territory Foods

"An excellent new voice in the autoimmune diet arena. The pictures of recipes are a treat for the eyes, and the whole book has an upbeat, positive tone that helps you feel like you can do this!" —Casmira Wildeman