Brain-Based Learning with Gifted Students: Lessons from Neuroscience on Cultivating Curiosity, Metacognition, Empathy, and Brain Plasticity: Grades 3- (Paperback)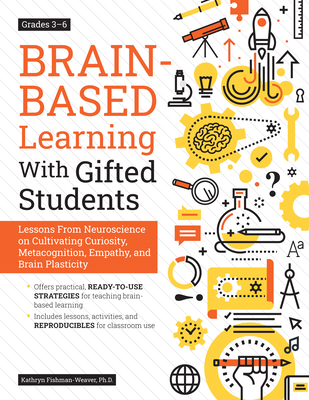 $48.93

Available in our Warehouse: Usually Ships in 3-8 Days
Description
---
Brain-Based Learning With Gifted Students combines relevant research in neuroscience with engaging activities for gifted elementary students in grades 3-6. This book:
Teaches how development and learning processes happen in the brain.
Helps students and teachers explore specific brain-based concepts together.
Includes a concise research overview on why each concept works and matters.
Offers extension ideas to deepen the activities and strategies for applying each concept to other content areas.
Aligns to gifted programming standards.
Through the lessons in this book, students will learn how to cultivate curiosity, neuroplasticity, metacognition, empathy, and well-being. Grounded in research on the latest findings in neuroscience, this book empowers gifted education teachers with relevant information on brain-based learning.
Grades 3-6.
About the Author
---
Kathryn Fishman-Weaver, Ph.D., serves as the Director of Academic Affairs for Mizzou K-12. As the principal of the global middle and high school programs, she works with students and teachers around the world. Prior to the principalship, Dr. Fishman-Weaver taught in public schools in Oakland, CA, and Columbia, MO. She has taught special education, gifted education, English language arts, and teacher preparation. Dr. Fishman-Weaver writes and presents frequently on student support, teacher leadership, and gender and education. She loves the written word, a good nap, and impromptu family dance parties in her kitchen. You can follow her work on educational leadership at http: //wholeheartedschoolleadership.com