Smithsonian Kids T. Rex (Spanish Edition) (Board Books)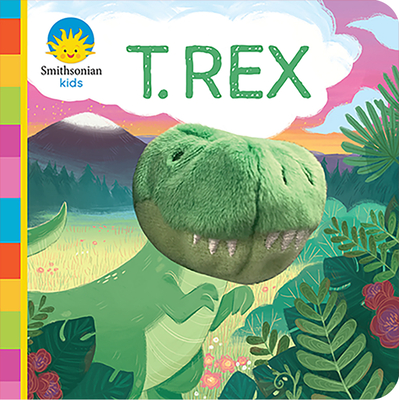 $7.99
This item is not currently available to order.
Description
---
Let's play with our Tyrannosaurus rex friend Learn all about the king of the dinosaurs that roamed North America more than 65 million years ago. This story features a fun finger puppet toy built into the board book encouraging interactive play, hand-eye coordination, sensory and language development. A perfect dinosaur introduction for littles stacked with fun dino facts.
Smithsonian Kids books feature engaging educational content for little learners that reflect the integrity of the Smithsonian. A portion of the proceeds from the sale of this book goes to support the Smithsonian's educational mission.
Collect the entire series in the Finger Puppet Collection from Cottage Door Press
built-in finger-puppet
encourages
interactive finger play,
which helps develop
little muscles
and build finger strength, improving
coordination
and
fine motor skills. Soft plush
and a
rhyming
story combine to provide both
tactile
and
verbal learning opportunities
to babies and toddlers.
Thick board pages
perfect for little hands to actively participate in storytime.
Lively illustrations
and a plush finger puppet help keep little girls and boys engaged throughout.Babies and toddlers learn best when they are playing, especially when their grown-ups are in on the fun.Officially licensed Smithsonian Kids product. Juguemos con nuestro amigo el Tiranosaurio Rex Aprende todo sobre el rey de los dinosaurios que deambulaba por Norteam rica hace m's de 65 millones de a os. Este cuento incluye una divertida marioneta de dedo integrada en el libro de cart n que fomenta el juego interactivo, la coordinaci n mano-ojo y el desarrollo sensorial y del lenguaje. Una introducci n perfecta a los dinosaurios para los m's peque os, repleta de datos curiosos.Los libros Smithsonian Kids ofrecen contenidos educativos atractivos para los m's peque os que reflejan la integridad del Smithsonian. Una parte de los beneficios de la venta de este libro se destina a apoyar la misi n educativa del Smithsonian. Colecciona toda la serie en la Colecci n de marionetas de dedo
La adorable marioneta del tiranosaurio
integrada
fomenta el juego interactivo con los dedos, lo que ayuda a
desarrollar los peque os m sculos
y a fortalecer los dedos, mejorando la
coordinaci n
y las
habilidades motrices afinadas.Un suave peluche
y un
cuento en rima
se combinan para ofrecer oportunidades de aprendizaje t ctil y verbal a beb's y ni os peque os.
Las p ginas de cart n gruesas
son perfectas para que las manitas participen activamente en la hora del cuento.Las
ilustraciones alegres
y una marioneta del dedo de felpa ayudan a mantener a los ni os y ni as peque os
entretenidos
durante todo el libro. Los beb's y los ni os peque os aprenden mejor cuando juegan, especialmente cuando los mayores participan en la diversi n Producto con licencia oficial de
Smithsonian Kids.
Spanish Language Edition