Forced Out: A Nikkei Woman's Search for a Home in America (Nikkei in the Americas) (Hardcover)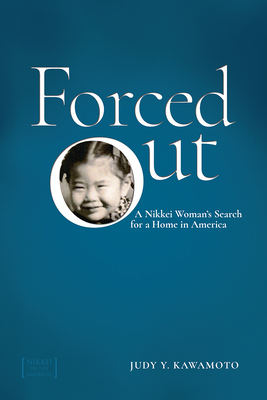 $41.93
This item is not currently available to order.
Description
---
Forced Out: A Nikkei Woman's Search for a Home in America offers insight into "voluntary evacuation," a little-known Japanese American experience during World War II, and the lasting effects of cultural trauma. Of the roughly 120,000 people forced from their homes by Executive Order 9066, around 5,000 were able to escape incarceration beforehand by fleeing inland. In a series of beautifully written essays, Judy Kawamoto recounts her family's flight from their home in Washington to Wyoming, their later moves to Montana and Colorado, and the influence of those experiences on the rest of her life. Hers is a story shared by the many families who lost everything and had to start over in often suspicious and hostile environments.
 
Kawamoto vividly illustrates the details of her family's daily life, the discrimination and financial hardship they experienced, and the isolation that came from experiencing the horrors of the 1940s very differently than many other Japanese Americans. Chapters address her personal and often unconscious reactions to her parents' trauma, as well as her own subsequent travels around much of the world, exploring, learning, enjoying, but also unconsciously acting out a continual search for a home.
 
Showing how the impacts of traumatic events are collective and generational, Kawamoto draws
interconnections between her family's displacement and later aspects of her life and juxtaposes the impact of her early experiences and questions of identity, culture, and assimilation. Forced Out will be of great interest to the general reader as well as students and scholars of ethnic studies, Asian American studies, history, education, and mental health.
2022 Asian/Pacific American Award for Literature, Honor Title, Adult Non-Fiction Literature
2022 Evans Handcart Award Winner
About the Author
---
Judy Y. Kawamoto is a retired psychotherapist. Her experience with the University of Colorado's Asian American Educational Opportunity Program led her to specialize in clinical social work in higher education. She has held positions in that capacity at various institutions, including University of California, Berkeley; Southern Oregon University; and City College of San Francisco, where she focused on exposing students of color to the benefits of therapy and encouraging them to participate.
 
Praise For…
---
"The ambivalent positioning of the author and her family in relation to what is arguably the defining experience for Japanese Americans—the experience of incarceration—makes for a fascinating subject of reflection on what it means to be impacted by the traumas of history. The text is all the more compelling because the author herself is a mental health professional who situates herself as one in need of healing. In this way, the book is important as a thoughtful affirmation of the need for greater awareness of psychic and intergenerational trauma."
—Tim Yamamura, University of Northern Arizona
 
"Forced Out covers a relatively overlooked aspect of this historical episode, making it an important resource for helping to fill in this gap. Moreover, it will be important for anyone interested in issues of racial and ethnic inequalities, civil liberties, culture and identity development, and trauma."
—Patti Sakurai, Oregon State University
 

"Relatively little has been written by or about the voluntary evacuees and their experiences, which makes this book a welcome addition to the literature."
—CHOICE

"Forced Out pays homage to [Kawamoto's] parents' untold stories, a candid and personal retrospective that fills in gaps in this 'backward glance through the time of my life' and presents an uncommon aspect of Japanese Ameri­can wartime history."
–Pacific Northwest Quarterly