The Encyclopedia of Cocktails: Over 1,000 Cocktails for Every Occasion (Hardcover)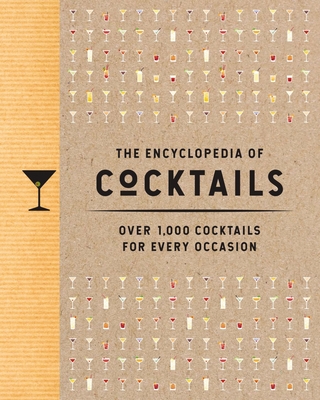 Description
---
The Encyclopedia of Cocktails features over 1,000 cocktails and will have you fashioning memorable cocktails in no time!

From 3-ingredient drinks to mad-scientist mixology, The Encyclopedia of Cocktails is any bartender's go-to resource. Clean, uncluttered design and extensive index make finding drinks easy, whether you're searching by spirit or style. This in-depth guide will provide recommendations, tips, and techniques that will help readers understand how to make the best cocktails at home and features:

- Over 1,000 cocktail recipes that will have you understanding the craft of mixology
- Necessary tools of the trade and where you can purchase everything you need
- A guide to purchasing the perfect liquor and spirits for your at-home bar
- An in-depth guide to ice, simple syrups, shrubs, and bitters to elevate your cocktails to the next level
- Tips for mixing your drinks like a pro and adding the perfect garnish to top them off
- Chapters dedicated specifically to each type of spirit, mocktails, and other nonalcholic drinks
- The history of over 100 classic cocktails
- Recipes for hundreds of homemade ingredients; from syrups to blends, infusions, tinctures, foams, and more, you'll be crafting bespoke ingredients in no time

The Encyclopedia of Cocktails is the perfect gift for anyone who likes to mix drinks – it's the only cocktail book they'll ever need!
About the Author
---
Good ideas ripen with time. From seed to harvest, Cider Mill Press brings fine reading, information, and entertainment together between the covers of its creatively crafted books. Our Cider Mill bears fruit twice a year, publishing a new crop of titles each spring and fall. Cider Mill Press is an independent publisher of high-quality cookbooks, elegant wine and spirits projects, humorous parodies, classic children's books, and more. We're proud to publish many celebrated bestselling titles, including the #1 New York Times bestselling edition of The Night Before Christmas. Along with our children's imprint, Applesauce Press, we combine top-notch design, unique formats, and fresh content to create truly innovative gift books.