Evidence-Informed Health Policy INSTRUCTOR'S GUIDE: Using EBP to Transform Policy in Nursing and Healthcare (Paperback)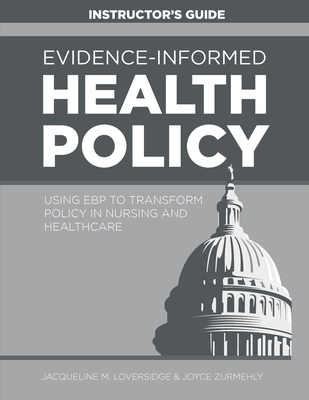 $17.94

Available in our Warehouse: Usually Ships in 3-8 Days
Description
---
Welcome to the Evidence-Informed Health Policy Instructor's Guide. This guide is designed to be a resource for educators in the academic, professional association, government affairs, regulatory, or practice environments. The guide is divided into three units:
Unit 1: Using the Textbook for Teaching and Learning
Unit 2: Resources for Teaching Evidence-Informed Health Policy
Unit 3: Chapter Learning Activities and Instructor Support
In this instructor's guide, we provide suggestions for faculty, nurse leaders, nurse members or staff of professional associations and organizations, regulatory agency members or staff, or other healthcare professionals who are teaching others to become more familiar with the policymaking milieu and processes using the book Evidence-Informed Health Policy: Using EBP to Transform Policy in Nursing and Healthcare. For faculty in particular, the menu of chapter-by-chapter learning activities and case studies will help facilitate student learning about the public policy process and can be used as part of a health policy course at a variety of academic levels.
The student workbook contains the same learning activities and case studies found in the instructor's guide. However, the instructor's guide additionally contains instructor support; this consists of sections on learning activity implementation and student evaluation. Also, some learning activities require fill-in responses or answers; samples are provided for the instructor. Finally, the instructor's guide includes one learning activity found in the student workbook: suggestions for a penultimate learning activity/comprehensive policy brief. We have often used this in our courses instead of a final examination. For master's-level students, we suggest assigning a bill or other form of established policy. Doctoral-level students are guided through the process of identifying an individualized policy problem and, eventually, a viable solution; some have gone on to develop these as DNP projects.