Blood on the Tracks 5 (Paperback)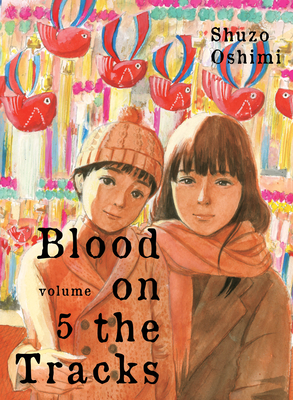 $12.95

Available in our Warehouse: Usually Ships in 3-8 Days
Description
---
Encouraged by Fukiishi to stand up for himself, Seiichi exploded in a moment of rage, telling his mother Seiko, "I don't need you"—the first rebellious act of his young life. Now Fukiishi has offered him sanctuary in her room, hidden from her father and away from the watchful eyes of his own parents. But as Seiichi fumbles toward sexual awakening, his mother's specter is never far from his mind...

Shuzo Oshimi's masterwork of psychological terror continues, as Seiichi struggles to navigate the tangled web of his competing emotions.

Meanwhile, Seiko's desperate search for her son brings her to Fukiishi's doorstep...
About the Author
---
Only in his late-thirties, Shuzo Oshimi is already considered a seasoned veteran of the Japanese comics community. Winner of the most important comics awards for newcomers, the Tetsuya Chiba Award in 2001, Oshimi has been penning quirky slice-of-life dramas now for over a decade for major manga publishers including Kodansha. After drawing nine series, Oshimi's star began to rise in 2008 with the release of his first hit, Drifting Net Cafe. This horror-themed homage to the legendary Kazu Umezzo work, Drifting Classroom, was adapted into a live-action series, and propelled Oshimi onto an international stage. He would soon reach new heights in 2009 with The Flowers of Evil.
As to date he has over 13 works which include serializations and art contributions.