Ghostly Tales of Iowa (Paperback)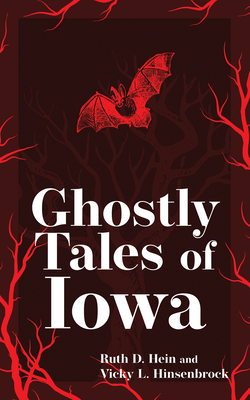 $9.95

Available in our Warehouse: Usually Ships in 3-8 Days
Description
---
Read 24 chilling ghost stories about reportedly true encounters with the supernatural in Iowa.
A mysterious apparition that caught a ride to its own grave, the spirit of a witch that tries to lure children into the basement of an abandoned home, a love triangle that ended with three tragic deaths and one tormented ghost--Iowa is one of the most haunted states in America. This collection of ghost stories presents the freakiest, most surprising tales of the Hawkeye State
Authors Ruth D. Hein and Vicky L. Hinsenbrock grew up in Iowa. Both developed a fascination for things that go bump in the night. As adults, the professional writers spent countless hours combing the region for the strangest and scariest run-ins with the unexplained.
Horror fans will delight in these 24 terrifying tales about haunted locations. They're based on reportedly true accounts, proving that Iowa is the setting for some of the most compelling ghostly tales ever told. The short stories are ideal for quick reading, and they are sure to captivate even the most reluctant of readers. Share them with friends around a campfire, or try them alone at home--if you dare.
About the Author
---
Ruth D. Hein grew up in Van Horne, Iowa, as the middle child in a ghost-free Lutheran parsonage. With an M.A. from the University of Northern Iowa, she taught high school English and creative writing for 28 years, 21 of those in Decorah. Ruth later moved with her husband, Ken, to a small acreage near Worthington, Minnesota. There, she collected ghost stories and wrote the historical column for the Worthington Daily Globe for 14 years. Vicky L. Hinsenbrock's German relatives loved to tell stories of the unexpected happenings when she was growing up in northeast Iowa. A graduate of Iowa State University with a major in animal science, she works for the USDA. She and her husband live in an old Victorian house in the country. No known ghosts inhabit their home.