Dropshipping: 2 in 1: The A-Z guide on the Art of Product Research, Creating Passive Income, Financial Freedom with E-commerce, Shop (Paperback)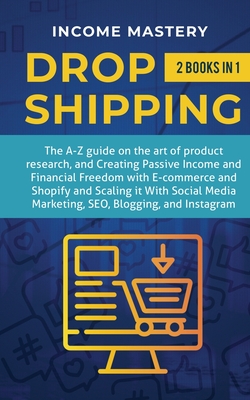 $27.39

Available in our Warehouse: Usually Ships in 3-8 Days
Description
---
Been thinking about trying Dropshipping but don't know what to sell?
Have already started but looking for more profitable items?
Learn what you need to get started
A lot of people have tried dropshipping, but not all have found success. It's not that it's not profitable, or that some don't have what it takes. Everyone has what it takes - The secret is in the planning.
Just like any online business, you must plan, learn the process, and market your brand.
Once you've planned out what you need to do and learned the dropshipping process, the next step is to source out products.
Now, you can't just choose any product. You have to find the products for your brand. How do you know which products are the right choice?
With this guide, you'll learn what you need to research which products to choose for your brand whilst maximizing your profit marging.
Books Included:
Dropshipping: Master the art of product research and find the most profitable private label items across Amazon for Amazon FBA and Amazon Fulfillment and maximizing your profits on your Shopify store
Dropshipping:: The DropShipping A-Z Guide on Creating Passive Income and Financial Freedom with E-commerce and Shopify and Scaling it With Social Media Marketing, SEO, Blogging, and Instagram
Choosing and researching products for your dropshipping business doesn't need to be a puzzle or a hit-or-miss kind of deal. Find profitable products that are right for your brand every single time.
Grab your copy today and take your dropshipping business to the next level