Critical Thinking Activities for Kids: Fun and Challenging Games to Boost Brain Power (Paperback)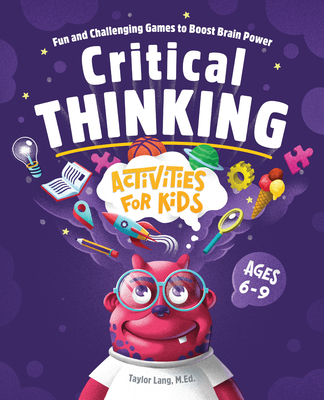 Description
---
Help newly independent readers ages 6 to 9 think more critically
Foster a lifelong love of thinking outside the box with activities that show just how fun critical thinking for kids can be. Whether it's using deduction to figure out what ride everyone would enjoy going on at an amusement park or solving math problems with balls instead of numbers, this book of critical thinking for kids is packed with puzzles to exercise their brains.
Expand on what new readers are learning in school and give them the tools they need to build thinking skills early. These activities teach them to identify, analyze, reason, evaluate, solve problems, and make decisions.
Boost critical thinking for kids with:
Guided learning—Puzzles have clear directions and gradually grow in difficulty, helping kids complete challenges and build their abilities without getting frustrated.
A variety of activities—Kids will stay engaged as they switch between matching puzzles, logic grids, fill-in-the-blanks, word scrambles, and more.
Real-world examples—Keep critical thinking for kids relatable with exercises that are based on fun activities, like visiting the zoo or going to a party.
Build critical thinking for kids with an activity book that helps new readers learn to solve problems independently.
About the Author
---
TAYLOR LANG is a classroom teacher, gifted education specialist, and curriculum resource creator. She is passionate about STEM education, children's literature, and encouraging all kids to think critically and creatively. Connect with her online at www.LearningwithMissLang.com and on Twitter @MissLang08.
Praise For…
---
"Students need to develop the 4 Cs of the twenty-first century: communication, collaboration, critical thinking, and creativity. Students need to start developing these critical thinking skills early. Taylor Lang has provided a resource for both parents and teachers to use in developing critical thinking with their 6-9 year-olds. The real world and engaging activities provided in this book will provide a motivation to use critical thinking beyond the answer key which reminds us that answers may vary!" —Patricia Farrenkopf, Ed.D. professional instructor

"There is no doubt that critical thinking skills are essential for our students. The challenge facing teachers is finding the time to engage learners in this thinking in meaningful ways. In this book, teachers and parents will find ready-to-use activities to grow complex thinking skills in fun and engaging ways." —Lauren Heitkamp, curriculum supervisor, Gifted & Federal Programs

"As an elementary principal, I loved this book! The puzzles are clear, engaging, and will appeal to young kids. The real-world topics will hook readers, and the explanations of types of thinking are well done! This would be a great addition to any classroom or home library." —Melissa Drury, M.Ed., elementary principal