The Feelings Activity Book for Children: 50 Activities to Identify, Understand, and Manage Your Feelings (Paperback)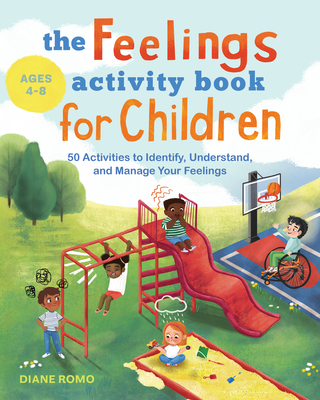 $12.99
This item is not currently available to order.
Description
---
Encourage kids to explore their emotions through engaging activities for ages 4 to 8
When children can identify their feelings, they're better able to work through them and express them in a positive way. Help kids build essential social and emotional skills with this constructive approach to feelings books for children. It's filled with activities that teach kids to understand their feelings and practice healthy methods for managing them. Kids will discover what happens to their minds and bodies when they experience emotions like happiness, anger, and embarrassment—and how to cope with big feelings when they arise.
This standout among feelings books for children includes:
A balanced approach—Investigating all of their feelings without judgment will show children how to handle a wide spectrum of emotions.
Real-life situations—Realistic examples encourage kids to think about how they'd feel and react in different scenarios, helping them develop empathy and manage their emotions in new situations.
A wide variety of activities—This fun choice in feelings books for children keeps kids engaged with coloring, drawing, writing, solving puzzles, and more.
Give kids the tools to deal with their emotions in a healthy way with this colorfully illustrated entry into feelings books for children.
About the Author
---
DIANE ROMO taught first grade for 30 years and now is an educational blogger, professional development speaker, and educational product creator with thousands of products sold throughout the world. Find her on Instagram @onegiggle and Facebook @One Giggle.
Praise For…
---
"This activity book provides such an interactive approach to teaching children how to understand (and therefore manage) a wide range of emotions. The author provides a nice balance of informative reading and engaging activities to help kids make connections with their own experiences. Definitely a helpful social emotional learning tool for parents and elementary teachers to utilize!" —Shannon Olsen, educator and children's book author

"In a time when social and emotional learning has been shown to affect every aspect of our lives, this book explores each of the concepts that comprise SEL, as defined by leading experts in the field. An educator with nearly 30 years of experience teaching first grade, Diane created age-appropriate, fun activities that will draw in younger learners to reinforce and extend the lessons. For use across a variety of settings, this book will truly help any child develop into a healthy, successful individual." —Kelly Roys, M.Ed., elementary school counselor

"I have a hard time explaining to my students what feelings are, how we can be aware of them, and how to regulate them. I truly appreciate the kid-friendly language used throughout. This book is especially needed right now when teachers are expected to teach SEL, but don't have a curriculum or tools to tackle this important subject. This book is a must for all primary educators!" —Maribel Sheehan, primary educator and reading coach

"Owning our feelings and learning how to express them in healthy, pro-social ways are important lessons for every young child to learn. Diane Romo's Feelings Activity Book for Children is a great kid-friendly guide to accomplish this in fun, informative ways. I highly recommend it!" —Trudy Ludwig, bestselling author of The Invisible Boy

"This is a valuable social-emotional learning resource. With the flexibility of reading aloud or inviting readers to engage independently, the activities allow children to understand their emotions and analyze common scenarios with tools such as the problem meter. Moreover, strategies like I-messages, 'take 5,' and breathing exercises provide children with the opportunity to immediately implement their new learning. Throughout the book, Diane Romo's experience as a classroom teacher and a mother is reflected in the developmentally appropriate explanations." —Christine Walsh, PhD, associate professor, elementary education/early childhood department