Content Strategy For Bloggers: Learn How To Understand Your Audience And To Create High Quality Content That Sells (Paperback)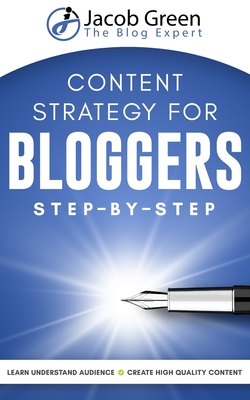 $11.78

Available in our Warehouse: Usually Ships in 3-8 Days
Description
---
Would you like to be able to write more effectively? Would you like to be able to capture your audience's attention through content creation? Would you like to be able to translate your own experiences and make a connection with someone reading your material?
Then, you've come to the correct place
Content creation is critical in being able to grasp the attention of the reader, the buyer or the client. It is essentially an advertisement for your product or system that informs your audience about particular buying options.
Without proper content creation, blog articles and other writing pieces become directionless, unable to really resonate with readers and inform them of products/services that can assist them with what pain points they may be experiencing.
Now that you have a better understanding of the reasons why creating structure around your content is so important, you can actually dive into this book to find comprehensive, intelligent and tangible information to help you build out effective content strategies that persuade readers and consumers alike, to purchase your products:
How you can overcome one of the biggest roadblocks that most of us face, which is "just getting started."
A number of concrete strategies that you can utilize for content creation, including what your main focus should be and your techniques.
How to implement a captivating introduction in articles/writing pieces in general.
How you can better apply the methods of technology and the web for your content strategy to be able to reach more potential buyers than before.
How to write blog pieces that resonate with readers - using your own experience to deepen that connection.
SEO techniques that can be implemented seamlessly into your content.
Identifying blog topics that are a combination of your interests and experiences and the relation to your audience - thus building a connection.
Strategies that can be used to grow your web traffic efficiently.
Plus so much more content creation related material
The proper content is one of the most important aspects of being able to connect with consumers and identify with them (including their pain points). It can be difficult at times to write such proper material, however, it's not impossible Though this book also serves as a reference, so that it DOESN'T have to be so difficult This guide lays everything out in a comprehensive, step-by-step fashion that won't overwhelm you and provide the tools you need to grow and make your mark.
So, what are you waiting for? One of the biggest obstacles is "just getting started." Overcome that and purchase this book using the "Buy Now" button to start your journey with content creation with a vision