Excuse Me While I Ugly Cry (MP3 CD)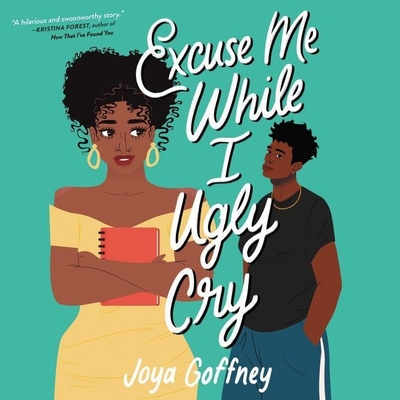 Email us for price & availability: info@oblongbooks.com
Special Order - Subject to Availability
Staff Reviews
---
A strong, warm story about sharing yourself with others. There's a sweet romance, sure, but even sweeter are the friendships and bonds of trust high school senior Quinn develops along the way. The powerful love Quinn has for her grandmother and their shared memories had me tearing up. You might find yourself saying "Excuse me while I ugly cry" too!
— Anna S
Description
---
Excuse Me While I Ugly Cry by debut author Joya Goffney is an own voices story of an overly enthusiastic list maker who is blackmailed into completing a to-do list of all her worst fears. It's a heartfelt, tortured, contemporary YA high school romance. Fans of Jenny Han's To All the Boys I've Loved Before and Kristina Forest's I Wanna Be Where You Are will love the juicy secrets and leap-off-the-page sexual tension.
"A hilarious and swoonworthy story." --Kristina Forest, author of Now That I've Found You
"A fun, emotionally rich romance with a sweet, imperfect character who will win your heart." --Liara Tamani, author of All the Things We Never Knew
Quinn keeps lists of everything--from the days she's ugly cried, to "Things That I Would Never Admit Out Loud" and all the boys she'd like to kiss. Her lists keep her sane. By writing her fears on paper, she never has to face them in real life. That is, until her journal goes missing . . .
Then an anonymous account posts one of her lists on Instagram for the whole school to see and blackmails her into facing seven of her greatest fears, or else her entire journal will go public. Quinn doesn't know who to trust. Desperate, she teams up with Carter Bennett--the last known person to have her journal--in a race against time to track down the blackmailer.
Together, they journey through everything Quinn's been too afraid to face, and along the way, Quinn finds the courage to be honest, to live in the moment, and to fall in love.
We appreciate your continued support!
If you would like to make a donation to help us through CLICK HERE.