Working to Restore: Harnessing the Power of Regenerative Business to Heal the World (MP3 CD)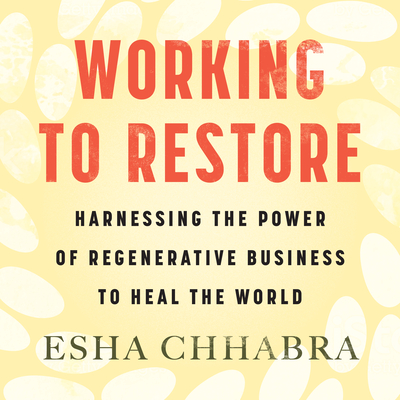 $24.99
This item is not currently available to order.
Description
---
Political upheaval and social turmoil have peeled back the layers of capitalism to reveal an uncomfortable truth: historically, businesses have sourced materials from remote corners of the globe and moved millions of people and tons of cargo around the clock, all in the name of profit. Yet many of today's startups are rewriting the rules of business: how it's done, by whom, and, most importantly, for what purpose. Journalist Esha Chhabra explores not only the feel good, do good factors of these restorative enterprises but also the nuanced realities and promise of regenerative business operations. Working to Restore examines revolutionary approaches in nine areas: agriculture, waste, supply chain, inclusivity for the collective good, women in the workforce, travel, health, energy, and finance. The companies profiled are solving global issues: promoting responsible production and consumption, creating opportunities for all, encouraging climate action, and more. Chhabra highlights how their work moves beyond the greenwashed idea of sustainability into a new era of regeneration and restoration. Working to Restore highlights our most innovative entrepreneurs yet, whose efforts of restoration and regeneration should be used as a model for other forward-thinking enterprises. Inspiring and engaging, this book shows it is possible for a business to thrive while living its mission and how the rules can be rewritten to put both the planet and its global citizens at the center.