Hester's Hunt for Home Trilogy: Three Bestselling Novels in One (Paperback)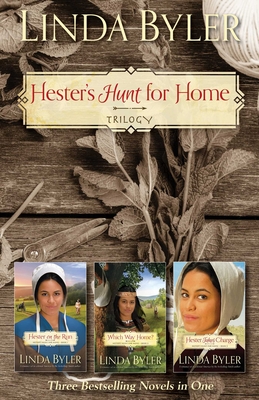 $19.99
This item is not currently available to order.
Description
---
Here is a trilogy of historical romance novels from Amish writer Linda Byler. If you love Amish Romance, you will love the Hester's Hunt for Home Trilogy!

In colonial America, a Native American orphan raised among the Amish explores her identity, torn between two cultures and unsure of where she belongs. When she's forced to leave everything behind and forge her own path, where—and with whom—will Hester choose to make her new home?

Hester on the Run, Book 1: One April morning, an Amish couple finds a Native American infant, wrapped in deerskin and placed next to the spring where they gather water. Kate and Hans adopt the child and name her Hester, despite the criticism of certain community members. Hester glows as she grows, an unmistakable beauty both inside and out, but begins to realize she doesn't quite fit in. An encounter with a Lenape medicine woman gives her a glimpse of her undiscovered heritage. When her own father becomes a threat, Hester is forced to flee from the Amish community, the only home she has ever really known.

Which Way Home?, Book 2: Twice rescued—first by matronly Native women who find her unconscious in the woods and then by a boy in downtown Lancaster where she'd been left for dead by the dreaded Paxton boys—Hester finds herself wondering if she will ever find a safe haven. When an Amish man from her past reappears, it seems like destiny, but William King is more in love with the way she looks than with her heart and mind. When a Native American man makes a proposal to Hester, she is perplexed more than ever. Where will her heart lead her?

Hester Takes Charge, Book 3: Now widowed and living in downtown Lancaster, Pennsylvania, Hester is startled by the unexpected appearance of Noah, the firstborn son of her adoptive parents. Their father's misplaced love for Hester and utter neglect of Noah drove each of them away from their Amish family. When Noah suggests they return to their childhood home to see their ill father, Hester can no longer ignore her buried anger and bitterness. Can they possibly forgive Hans? Can Hester trust herself—and Noah—enough to marry again?
About the Author
---
Linda Byler grew up Amish and is an active member of the Amish church today. She is the author of five bestselling fiction series, all set in the Amish world: Hester Takes Charge, Lancaster Burning, Sadie's Montana, Lizzie Searches for Love, and The Dakota Series. In addition, Byler has written five Christmas romances: The Little Amish Matchmaker, The Christmas Visitor, Mary's Christmas Good-Bye, Becky Meets Her Match, A Dog for Christmas, and A Horse for Elsie. Linda is also well known within the Amish community as a columnist for a weekly Amish newspaper.