After Anatevka (Hardcover)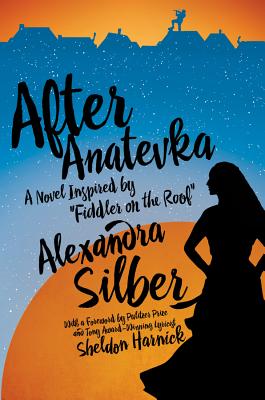 $28.55
This item is not currently available to order.
Description
---
A sweeping historical novel in the grand tradition of Russian literature that imagines what happens to the characters of Fiddler on the Roof after the curtain falls.

The world knows well the tale of Tevye, the beloved Jewish dairyman from the shtetl Anatevka of Tsarist Russia. In stories originally written by Sholem Aleichem and then made world-famous in the celebrated musical Fiddler on the Roof, Tevye, his wife Golde, and their five daughters dealt with the outside influences that were encroaching upon their humble lives. But what happened to those remarkable characters after the curtain fell?

In After Anatevka, Alexandra Silber picks up where Fiddler left off. Second-eldest daughter Hodel takes center stage as she attempts to join her Socialist-leaning fiancé Perchik to the outer reaches of a Siberian work camp. But before Hodel and Perchik can finally be together, they both face extraordinary hurdles and adversaries—both personal and political—attempting to keep them apart at all costs.

A love story set against a backdrop of some of the greatest violence in European history, After Anatevaka is a stunning conclusion to a tale that has gripped audiences around the globe for decades.
About the Author
---
Alexandra Silber is an actress and singer who starred most recently as Tzeitel in the Broadway revival of Fiddler on the Roof. She earlier played Hodel in the same show in London's West End. Those two roles inspired her to write After Anatevka. Her other Broadway, New York, and West End credits include Master Class, Arlington (Outer Critics Circle nomination), Carousel (TMA Award and Ovation Nomination), Kiss Me Kate, and Hello, Again (Drama League nomination). She received a Grammy nomination for her portrayal of Maria in the recording of West Side Story with the San Francisco Symphony. She has appeared on all three incarnations of "Law & Order" and has performed in a variety of concert outlets including the 57th Grammy Awards, Royal Albert Hall, and Carnegie Hall. She lives in New York.

Sheldon Harnick is the Pulitzer Prize and Tony Award-winning lyricist who co-wrote Fiddler on the Roof.
Praise For…
---
"This phenomenal story carries the light tone of the earlier musical and the vacillating light and dark moods of Russian literature, all sensitively balanced with perfect timing. A gorgeous, captivating story that truly deserves the name of great historical fiction. Alexandra Silber is notably knowledgeable about her topic, but most of all inserts the 'Russian soul' into it that earns it the hallmark of being called classic literature. Extraordinary!"
— Historical Novels Review (Editor's Choice)

"Admirable. The moving story and attention to detail will make this an enjoyable trip for any fan of Fiddler on the Roof."
— Publishers Weekly

"A fully realized, thoughtful literary novel. Fans of [Fiddler on the Roof] and anyone interested in the plight of the Jews in czarist Russia will appreciate this multitalented author's work."
— Booklist

"Hodel persists with grace in this continuing story of Tevye's second daughter. Silber's characters sing, and scenes here have a nostalgic, vital air that will speak to Fiddler devotees. A shocking ending will undoubtedly leave readers wanting even more of Hodel's tale; on the other hand, isn't it longing that makes a story great?"
— Foreword Reviews (starred)

"It's no secret that Alexandra Silber is one of our theater's finest singing actors. But who knew she was a thrilling novelist as well? After Anatevka does Fiddler on the Roof proud."
— Tony Award-winning playwright Terrence McNally

"A stunning accomplishment. Alexandra Silber manages to weave the 20th century migration of Jews out of Europe with wonderful dose of theater history and all the charm of Fiddler on the Roof."
— Tony Award-nominated actress Jessica Hecht

"After Anatevka serves not only as a fitting sequel to a beloved tale, but as a new classic of its own. Alexandra Silber is a masterful storyteller with a poet's gift for language and a romantic's heart. Her novel is pure joy. I can only hope that a musical version is already in the making and that this old actor might have a moment with her onstage as her 'Papa.' Enjoy this amazing tale and let your heart sing. L'chaim! To life!"
— Tony Award-winning and Emmy-nominated actor Jason Alexander

"While most actors do research for a role, Alexandra Silber has gone above, beyond, and below as she follows these characters out of the story of Fiddler on the Roof and into the wider world. Who knew this accomplished actress was an equally accomplished spinner of tales? Told with skill and depth of emotion, After Anatevka is something quite miraculous."
— Ted Chapin, President of Rodgers & Hammerstein

"After Anatevka is a page-turner: A gorgeous love story, both intimate and epic. Alexandra lovingly and sumptuously picks up where Shalom Aleichem left off. It's the next great Russian novel! I feel like a proud papa when I tell you that not only is Alexandra a brilliant actress, but she's also a gifted novelist."
— Tony Award-nominated actor Danny Burstein
Coverage from NPR