The Craft of Wargaming: A Detailed Planning Guide for Defense Planners and Analysts (Hardcover)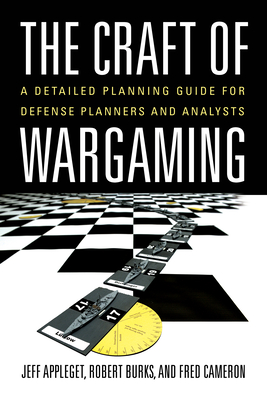 $61.53

Available in our Warehouse: Usually Ships in 3-8 Days
Description
---
The Craft of Wargaming is designed to support supervisors, planners, and analysts who use wargames to support their organizations' missions. The authors focus on providing analysts and planners with a clear methodology that allows them to initiate, design, develop, conduct, and analyze wargames. Built around the analytic wargaming construct, organizations or individuals can easily adapt this methodology to construct educational and experiential wargames.
The book breaks the wargame creation process into five distinct phases: Initiate, Design, Develop, Conduct, and Analyze. For each phase, the authors identify key tasks a wargaming team must address to have a reasonable chance at designing, developing, conducting, and analyzing a successful wargame. While these five stages are critical to the process of constructing any wargame, it should be understood that the craft of wargaming is learned through active participation, not by reading or watching. This craft must be practiced as part of the learning process, and the included practical exercises provide an opportunity to experience the construction of an analytical wargame.
The authors also discuss critical supervisory tasks that are essential to manage the wargaming team's efforts. While the creators are focused on the design and development of the game itself, supervisors must set conditions for the wargame to be a success (best practices) and beware of the pitfalls that may set the wargame up to fail (worst practices). The book demonstrates using the analytical wargaming framework to create relevant and useful planning wargames. It also reinforces using the analytical wargaming framework for seminar wargames that, without rigor, are useless. The book demonstrates the benefits of using the analytical wargaming process to design educational and experiential games.
About the Author
---
COL. Jeff Appleget, USA (RET.), raised in Vermont, graduated from West Point in 1979. Jeff served as an artillery officer and an operations research analyst, providing analytic support for combat operations and acquisition programs. Upon his retirement from the Army in 2009, Jeff joined the Naval Postgraduate School's Operations Research Department faculty, where he teaches wargaming and combat modeling. COL. Robert Burks, USA (RET.), raised as an Army brat, enlisted in the Infantry in 1982 and spent more than 30 years serving the country. He retired from military service in 2013 and joined the Naval Postgraduate School where he has focused on teaching quantitative methods and wargaming to Special Operation Forces students from around the world. Fred Cameron served as a civilian analyst in the Canadian Department of National Defence for over 35 years. For nearly a decade he has been teaching analytical wargaming in courses provided by the Naval Postgraduate School. He resides on Vancouver Island.