The Inside Story: The Surprising Pleasures of Living in an Aging Body (Hardcover)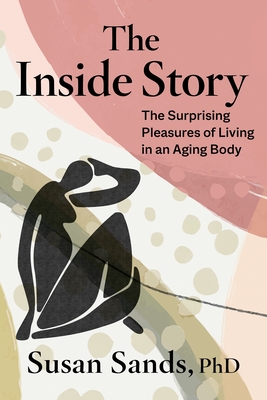 $28.59
This item is not currently available to order.
Description
---
What if the secret to healthy aging has been inside of you all along? Find out in this enlightening guide to better aging through embodiment for women at midlife and beyond.

"A delicious brew of new knowledge and fresh ideas, seasoned with a feminism that spans a long, rich life. What a treat!" —Valory Mitchell, PhD, coauthor of the 50-year adult development study Women on the River of Life

"This is a work of love to women." —Susie Orbach, author of Fat is a Feminist Issue and Bodies

"[Sands] notes how with aging comes greater freedom and happiness, a more meaningful perspective on life, and a transformative capacity for body awareness. By outlining the many benefits of aging and offering practical strategies for wholesome living during the senior years, Sands ignites a genuine excitement about the aging process." —Spirituality & Health magazine

The new science of embodiment tells us that "body sense," or interoceptive awareness, is a crucial factor for our well-being across the span of our lives. In this eye-opening and wide-ranging book, body image expert Dr. Susan Sands unpacks the research to make a bold call to aging women to find safe harbor from the ravages of age right where they strike the deepest—in the body. "How can we manage the losses of aging? Stop focusing on the 'outside body' that others see—the one you may think is too fat, too wrinkled, or too saggy—and move your attention to the 'inside body' that you sense and feel."

With wise and humorous insight, Dr. Sands calls on case studies, personal stories, and scientific findings to help us rewrite the cultural beliefs that put us at odds with our own bodies. Powerful yet accessible embodiment tools such as meditation, yoga, breathing practices, and neural feedback techniques make this a practical as well as enlightening self-care manifesto for women at midlife and beyond.

"This book is not about trying to look fifty when you're seventy or thirty when you're fifty," writes Dr. Sands. "It's about forging a healthier relation­ship with your actual maturing body—a relationship of respect, appreciation, tenderness, and yes, even love."
About the Author
---
Susan Sands, PhD, is a clinical psychologist known for her trailblazing work in female development and body-based disorders. She incorporates Buddhist thought and meditative practices into her work with patients. A former journalist, she publishes and presents widely on the topic of eating disorders and body image, and is a core faculty member at the Psychoanalytic Institute of Northern California in San Francisco.
Praise For…
---
"[Sands] notes how with aging comes greater freedom and happiness, a more meaningful perspective on life, and a transformative capacity for body awareness. By outlining the many benefits of aging and offering practical strategies for wholesome living during the senior years, Sands ignites a genuine excitement about the aging process." —Spirituality & Health magazine

"Rejoice! Susan Sands has crafted an exquisitely written, indispensable antidote to the inexorable fear and revulsion attendant to the aging process, especially with respect to body image. Eschewing the typical self-help promise of triumph over aging, Sands deftly provides an integrated guide to navigating and enriching the aging process, utilizing a groundbreaking weaving of neuroscience and psychology that upends our fraught expectations about living in an aging body. With depth and grace, she turns our thinking about women aging on its head, challenging us to think about aging not as a problem or disorder but as a fresh and novel way to live in a stable older body. Sands invigorates our minds with the hope of finding solace and fertile ground through remaking and reexperiencing our relationship to our bodies so that we can live in and from them, in their 'glory' or not, as is." —Jean Petrucelli, PhD, CEDS, editor of Body-States and director of EDCAS at The William Alanson White Institute

"We might wish to scorn our aging, but Susan Sands invites us to understand and—yes!—even relish our embodiments' many surprises and gifts. This is a work of love to women." —Susie Orbach, author of Fat Is a Feminist Issue and Bodies

"A delicious brew of new knowledge and fresh ideas, seasoned with a feminism that spans a long, rich life. What a treat!" —Valory Mitchell, PhD, coauthor of the 50-year study Women on the River of Life

"Now more than ever, we want to inhabit our bodies comfortably, honor our cycles, and consciously evolve. As we grow older, Susan's book makes the neurological and psychological case for tending to the most vital relationship of all—with ourselves." —Elena Brower, author of Being You

"Every woman over 50 must read this book; it will transform their lives. Dr. Sands's core message is that women do not just have a body, they are a body, and being able to know and feel their bodies from the inside is the gateway to contentment and full acceptance of their aging. Supported by the latest neuroscience research and full of gripping first-person accounts of women struggling to come to terms with growing older, The Inside Story offers many practical methods—from mindfulness to touch, movement and yoga—for women to know themselves not for what others say they are, but for who they truly are, inside and out." —Lewis Richmond, author of Aging as a Spiritual Practice

"With gracious vulnerability and deep wisdom, Susan Sands beautifully guides us to understand the complex nature of how the inner selves are the score keepers of our physical bodies. Aging and loving our bodies is an inside job, and as we learn to have graceful compassion and acceptance for all parts of ourselves, we learn to celebrate our bodies as divine temples. As we hold hands sharing our insecurities, we accept the parts of ourselves that we have hidden from the world, and we remind one another that we are imperfectly perfect as children of the divine. Certainly a book for women of all ages to use as a guide on the journey towards deeply loving ourselves—body, mind, and spirit." —Karena Virginia, author of Essential Kundalini Yoga