The Poe Clan Vol. 2 (Hardcover)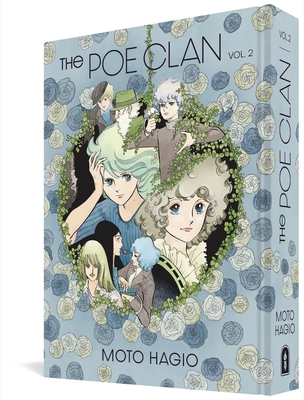 $39.99

Available in our Warehouse: Usually Ships in 3-8 Days
Description
---
This groundbreaking young adult vampire series was created by a pioneer of the shojo/shonen-ai manga genres and one of the world's most influential cartoonists.
In our concluding second volume, an amnesia-stricken Edgar is found alone on a snowy night in England. Separated from his "vampirnella" clan, who feed on the energy of the living and while away the centuries in a village of roses, he struggles to remember his own name. Will Edgar regain his memory and be reunited with them? In stories like "Piccadilly, Seven O'Clock," "Edith," and "The Last Will and Testament of Oswald Owens," there are murders, mysteries, seances, and obsessions — and generations of humans whose lives are profoundly affected by a boy who does not age, Edgar, and his embraced companions: his little sister, Marybelle, and Alan Twilight, a 14-year-old from the 1800s. Fantagraphics is proud to present the second and concluding volume of this best-selling manga, which has been adapted into various media, and is published here in English for the first time.
Please note: This book is a traditional work of manga, and reads back to front and right to left.
About the Author
---
Moto Hagio was born May 12, 1949, in Omuta City, Fukuoka Prefecture. She is one of a group of women born that year that broke into the male-dominated manga industry and pioneered the shojo (girls') movement. Hagio's Heart of Thomas, inspired by the 1964 film A Special Friendship, was one of the early entries in the shonen-ai (boys in love) subgenre. Her major works include A Drunken Dream, A,A', They Were Eleven, and Otherworld Barbara. She's won the Japanese Medal of Honor with the Purple Ribbon (the first woman comics creator to do so), received Japan's SF Grand Prize, the Osamu Tezuka Culture Award Grand Prize, and an Inkpot Award, among other accolades. She lives in the Saitama Prefecture.


Rachel Thorn is from in Lansdale, Pennsylvania. She is a cultural anthropologist, writer, and an associate professor in the manga department at Kyoto Seika University. Her translations include the New York Times Best-Seller Nijigahara Holograph by Inio Asano and Hayao Miyazaki's Nausicaä of the Valley of the Wind.
Praise For…
---
[Hagio's] work is inspired by American science-fiction and European film, suffused with markedly fluid notions of gender and evinces her unflinching eagerness to explore some very dark psychological places.
— NPR