Hogbook and Lazer Eyes (Hardcover)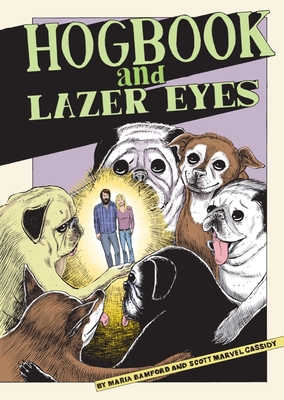 $19.99

Coming Soon - Available for Pre-Order Now
Description
---
Fans of Maria Bamford's acclaimed quasi-autobiographical Lady Dynamite Netflix series already know of her romance with LA painter Scott Marvel Cassidy, as well as her droll pug sidekicks Blueberry and Bert. Now the story has been recounted in the graphic novella Hogbook and Lazer Eyes, written by Bamford/Cassidy, drawn by Cassidy, and all told by the rescue dogs they've adopted.
For those unfamiliar with the story, newly single fortysomethings Maria Bamford and Scott Cassidy each signed up on the dating site OkCupid, under the respective usernames "Hogbook" and "Lazer Eyes." They went on a date, and then another, and soon, despite a history of Bipolar II disorder and unhealthy relationships for each of them, they fell in love and were married in 2015. We view all of this through the prism of their pug housemates, including Blueberry and Bert (who has an unnatural obsession with Michael Flatley of "Riverdance" fame), and the elderly bonded pair Betty and Arnold (who recount their star turn as interplanetary canine scientists in the second season of
Lady Dynamite
).
Cassidy's fine art training translates with ease into graphic storytelling, with a naturalistic illustrative style that is a pitch-perfect match for Bamford's comic timing, making Hogbook and Lazer Eyes a beautifully illustrated love story, told by some incredibly charming pugs.
About the Author
---
Maria Bamford is a writer, actor, and stand-up comedian. She and husband, Scott Marvel Cassidy, live in Los Angeles, CA.

Scott Marvel Cassidy is a graduate of the Pennsylvania Academy of the Fine Arts whose work has been exhibited in New York, Los Angeles, Philadelphia, and elsewhere. He lives in Los Angeles, CA.
Praise For…
---
Comedian Bamford (of the streaming series Lady Dynamite) and her husband, artist Scott Cassidy, sketch out their life together in a series of wry, pug-centric vignettes... Cassidy has a knack for bringing the animals and their spaces to life.

— Publishers Weekly

There's a lot that's more or less about Hogbook and Lazer Eyes — it's more or less narrative, more or less experimental, more or less autobiographical, more or less ironic, more or less perfect.

— Artillery