The Gift of Recovery: 52 Mindful Ways to Live Joyfully Beyond Addiction (Paperback)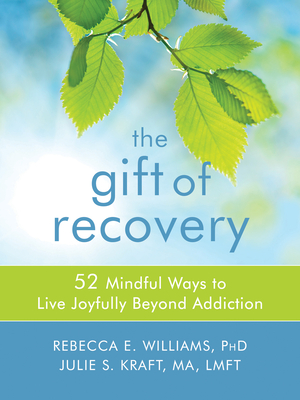 Description
---
A 2018 Nautilus Award Winner
If you're recovering from addiction,
The Gift of Recovery
offers quick, in-the-moment tips and tricks to help you cope with daily stress and stay firmly on the path to wellness. With this gentle, easy-to-use guide, you'll learn how to navigate relationships, take time for self-care, and build a mindful, sustainable, and joyful recovery.
Deciding to get help for addiction is the first step toward recovery. But addiction recovery doesn't happen all at once--it's something that must be worked for, every day. Sometimes, it will be easy. When things are going well, you may not be tempted to give in to your cravings. But when life is stressful, you'll need strategies to help you cope.
Written by the authors of The Mindfulness Workbook for Addiction, this on-the-go mindfulness guide offers fifty-two powerful and effective meditations to help you manage the stress, depression, and strong emotions that can get in the way of a full and lasting recovery. You'll also find skills based in cognitive behavior therapy (CBT), dialectical behavior therapy (DBT), and acceptance and commitment therapy (ACT) to help you stay grounded, as well as links to online resources.
Deciding to overcome an addiction can feel like leaving a relationship. It's hard and sometimes lonely--but it is truly an act of courage. This book will help guide you as you continue making courageous steps toward peace, joy, and fulfillment.
This book has been selected as an
Association for Behavioral and Cognitive Therapies Self-Help Book Recommendation
--an honor bestowed on outstanding self-help books that are consistent with cognitive behavioral therapy (CBT) principles and that incorporate scientifically tested strategies for overcoming mental health difficulties. Used alone or in conjunction with therapy, our books offer powerful tools readers can use to jump-start changes in their lives.
About the Author
---
Rebecca E. Williams, PhD, is an award-winning author, consultant, and clinical psychologist specializing in healthy recovery from mental illness and addiction. Her work focuses on building resilience and embracing well-being. She is associate clinical professor of psychiatry at the University of California, San Diego, and program director at the Veterans Affairs San Diego Health Care System. Julie S. Kraft, MA, LMFT, is a licensed marriage and family therapist. She has been working in the fields of addiction and mental health since 2008. Julie is an adjunct faculty member at the University of San Diego, where she teaches systemic treatment of substance abuse. Julie has a private practice in San Diego, CA, where she works to help her clients find all the gifts that they deserve. Williams and Kraft are coauthors of The Mindfulness Workbook for Addiction, which won the San Diego Book Award. Their workbook has been translated into Korean.