The Gifted Kids Workbook: Mindfulness Skills to Help Children Reduce Stress, Balance Emotions, and Build Confidence (Paperback)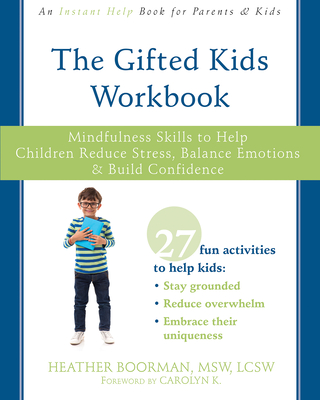 $19.75
This item is not currently available to order.
Description
---
Help your gifted child embrace their uniqueness. In this workbook, a therapist offers fun activities and strategies to help children ages 7 to 12 boost self-confidence, reduce stress and overwhelm, and balance emotions.
As a parent, you understand the blessings and the challenges of raising a gifted child more than anyone. Although gifted kids are often seen as intellectually and academically privileged, those same gifts can also create challenges. For example, kids are often quite aware of their differences, and this awareness can negatively impact their sense of self and confidence in the world. This engaging workbook directly addresses the psychological needs of gifted children using a powerful combination of mindfulness, acceptance and commitment therapy (ACT), and self-compassion strategies.
With this workbook, your child will gain a better understanding of their unique gifts and learn essential strategies to help regulate their emotions, manage anxiety, improve mood, and navigate social relationships. Young readers will learn that they are not alone in their experiences, and that much of what others might consider to be different or strange about them is actually quite typical within the context of giftedness.
For children, feeling different from others can be difficult. With this workbook, your child will learn that they have an important place in the world, and that their gifts are something to celebrate.
This book has been selected as an
Association for Behavioral and Cognitive Therapies Self-Help Book Recommendation
--an honor bestowed on outstanding self-help books that are consistent with cognitive behavioral therapy (CBT) principles and that incorporate scientifically tested strategies for overcoming mental health difficulties. Used alone or in conjunction with therapy, our books offer powerful tools readers can use to jump-start changes in their lives.
About the Author
---
Heather Boorman, MSW, LCSW, is a therapist, writer, and speaker specializing in supporting families impacted by the joys and challenges of giftedness/twice exceptionality. Heather founded and works at Boorman Counseling and writes/podcasts at www.thefringybit.com to provide real support to parents who love a differently wired child. Foreword writer Carolyn K. is founder and director of Hoagies' Gifted, Inc.--a nonprofit dedicated to supporting gifted individuals, families, and professionals who work with them. Works include Hoagies' Gifted Education Page and 50,000-member social media communities.