The Anger Workbook for Kids: Fun Dbt Activities to Help You Deal with Big Feelings and Get Along with Others (Paperback)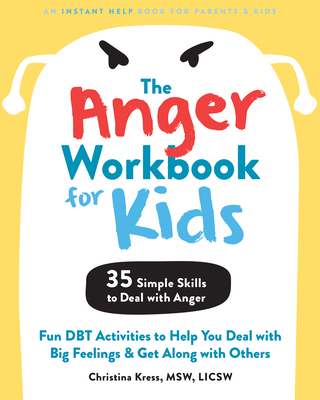 Description
---
Powerful and simple skills grounded in dialectical behavior therapy (DBT) to help kids deal with anger and stay calm.
Kids often need extra help managing their emotions, and this is especially true when it comes to anger. Out-of-control anger and temper tantrums can interfere with making friends, learning in school, and all aspects of life. But there are tools your child can use to respond to anger in healthier ways. This workbook can help kids increase their awareness of anger and regulate it more effectively.
The Anger Workbook for Kids offers clinically proven, hands-on activities grounded in dialectical behavior therapy (DBT) to help kids manage anger, regulate their emotions, handle conflict with peers, and express big feelings in healthier ways. Children will also gain a better understanding of how their anger impacts others, and what to do when anger has hurt friendships or other relationships.
This workbook will help kids:
Identify anger triggers
Understand and describe their feelings
"Hit pause" when anger starts to take control
Repair friendships damaged by anger
Express their feelings
Anger is a natural emotion that even adults struggle with. This friendly workbook takes a non-judgmental approach to help kids take control of their anger before it leads to aggression or outbursts--skills that will serve them well into the future
About the Author
---
Christina Kress, MSW, LICSW, is a licensed clinical social worker in private practice in St. Paul, MN. Kress has more than twelve years of experience treating young children using play therapy and cognitive behavioral therapy (CBT), along with more than four years' experience treating adults using dialectical behavior therapy (DBT). Kress presents annually at the Minnesota Association for Child and Adolescent Mental Health Conference, has been a guest lecturer at St. Catherine's University in St. Paul, MN, and provides clinical supervision to mental health practitioners through her practice.