Explore! America's National Parks (Hardcover)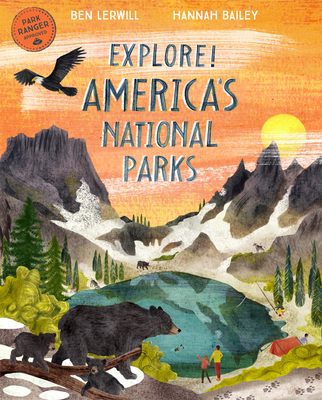 $18.99
This item is not currently available to order.
Description
---
America's 61 National Parks are a must-see for every nature lover and adventurer around the world, and Explore! America's National Parks shows the parks region by region, detailing not-to-be missed sights, as well as all the things to see and do. Would you like to kayak down a river? Or follow a trail of badger tracks? Or maybe take a ride on the back of a llama? With consultancy from a real Park Ranger, the book contains a variety of exciting and interactive information, from full-page landscape artwork, to activity spreads featuring flora and fauna to search for in the park, to maps plotting all 61 National Parks in each region. Plus, readers get a history of the parks, what to pack for camping and hiking, and information on environmental issues, endangered animals, and protecting the parks, and more.
Praise For…
---
"It's a treasure trove of knowledge - full of pages that capture the essence of each national park. ... Each park spread includes basic stats/facts as well as suggested activities to try and things to spot, accompanied by incredibly detailed and gorgeously illustrated pictures that depict the heart and personality of each national park."
-- Stories with Jojo

"This National Park book covers every national park broke up in regions of the USA, with suggestions on what to look for and do at each park, plus fun park facts."
-- Jamie Bills

"Looking for adventure? ... Explore! America's National Parks is full of facts, statistics, and helpful tips about our country's National Parks. Organized by regions, you can read from front to back or skip around. Reading this book makes me want to road trip and explore all these hidden gems, many of which I didn't even know about!"
-- Storymamas

"A great resource for research projects on national parks or the armchair traveler, this title is deserving of a spot on elementary an/or middle school shelves. The author consulted with park rangers and it is clearly evident in the wide variety of suggested park activities and park spots not to be missed."
-- PSLA Literature Review

"Beautifully illustrated, laid out by geographic region (West Coast, Alaska, Rocky Mountains, Southwest, Central, East, and Tropics), and with a strong message of environmental respect and care, this is a treasure trove."
-- Mom Read It

"Gorgeous nonfiction alert! Explore! America's National Parks takes an incredibly in-depth look at nature's playgrounds in the USA. This book is packed full of tips, specific plants & wildlife to be on the lookout for at each park and would make a fabulous addition for families that make it a point to visit them."
-- Kids Lit is Lit

"There is so much beauty in our National Parks and such a wide variety as you cross the coast! In this brand-new release, little explorers will navigate the different National Parks and get a taste for adventure."
-- Little Cub Literacy

"What I really like about this book is the way the information is presented. ... The illustrations are wonderful and important facts and figures are added at appropriate places."
-- Our World of Words