We Can Never Leave This Place (Paperback)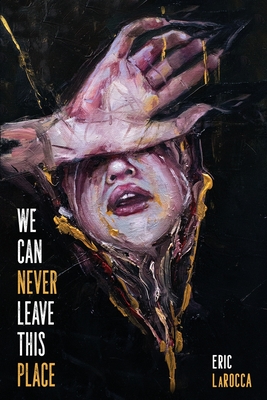 Staff Reviews
---
This is a story about grief and abuse and power, and the monsters who will take everything if they can. It's about how the people closest to us hurt us the most. It's about being devoured, bit by bit. It's gross and messed up, and it's also a story with kindness and goodness and hope, and the breaking free of cycles and traps that seem impossible to leave.
— Frederick
Description
---
"When you're given a gift, something else gets taken away."
A precocious young girl with an unusual imagination is sent on an odyssey into the depths of depravity. After her father dies violently, young Mara is surprised to find her mother welcoming a new guest into their home, claiming that he will protect them from the world of devastation and destruction outside their door.
A grotesque and thrilling dark fantasy, We Can Never Leave This Place is a harrowing portrait of inherited grief and familial trauma.
"We Can Never Leave This Place is the apocalyptic 21st century Grimm's fairy tale you need in your life. Eric LaRocca plucks images directly from the muck and mire of our id and fashions them into something grotesquely beautiful." Paul Tremblay, author of The Cabin at the End of the World and The Pallbearers Club
"We Can Never Leave This Place is a bleak and tender, monstrous and visceral fable of family and loss, and the courage it takes to confront them both." Kathe Koja, author of The Cipher