A Love-Stretched Life: Stories on Wrangling Hope, Embracing the Unexpected, and Discovering the Meaning of Family (CD-Audio)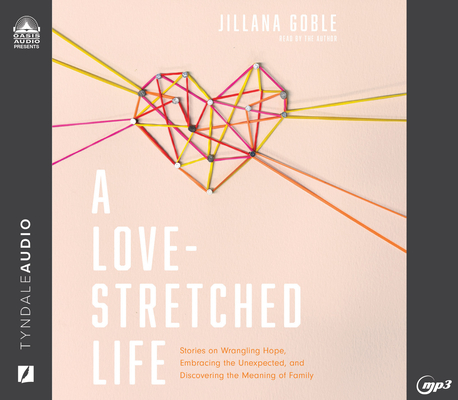 $19.99
This item is not currently available to order.
Description
---
This life is real and complicated, messy, colorful, good, exhausting, and exhilarating—often simultaneously.
It's easy to feel overburdened by life's demands. Looking out into the world as well as under the roof of our home may cause us to question, "How did we get here? And how will we get through?"

Jillana Goble has been there. With honesty, faith, and a dose of humor, her debut memoir, A Love-Stretched Life, chronicles what she's continually learning on the suspension bridge between reality and hope. A mom via foster care, birth, and adoption—in that order—for nearly two decades, Jillana has experienced life's curveballs. Her come-as-you-are posture amidst a daily reality far different than she ever imagined reassures you that you're not alone if your life isn't tidily wrapped in a bow.

These stories will stay with you as you strive to love and to love well, even when—and especially when—it's hard. Whether you are widening your family circle or just trying to get through the day, Jillana welcomes you to her table, offering you an anchor of hope to hang on to as you navigate your own love-stretched life.
About the Author
---
Jillana Goble has been a foster mom, biological mom, and adoptive mom—in that order—since 2003. Five children ranging from pre-teen to young adult call her Mom. She writes what she's continually learning on the suspension bridge between hope and reality.
Jillana holds a masters degree in Teaching ESL. She is a sought after speaker on various topics around foster care, government/community partnership, adoption, special needs, grief, and hope. She continues to mentor and walk alongside countless foster parents navigating this journey.
Jillana is a connector and a collaborator who has walked an unlikely path in creating an unprecedented relationship with the children who have walked through her front door, their biological families, and with the Oregon Department of Human Services Child Welfare. She founded an initiative that became the catalyst for Every Child Oregon, a robust engagement model bridging the community and foster care.
When not engaging with her family, Jillana enjoys drinking coffee with friends—half filled with cream—at neighborhood coffee shops. Her favorite things include leaning in to engage others' real deal stories, walking around the city with a friend, and reading in the tub way too late at night.