This Is the Night Our House Will Catch Fire: A Memoir (Compact Disc)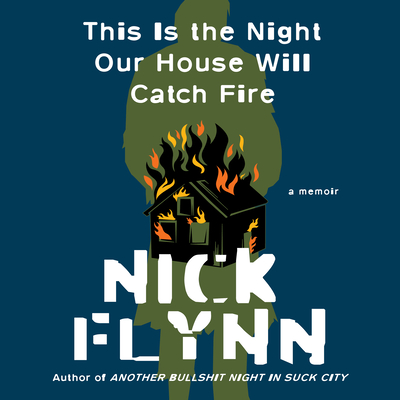 $29.99
Available in our Warehouse: Usually Ships in 3-8 Days
Staff Reviews
---
-A powerful meditation on the all the real and imagined doorways between childhood and parenthood- 
The year Nick Flynn turns 7,  his mother sets their house on fire.  This event looms large in his childhood memory until Nick becomes a father himself, and realizes the need to untangle his relationship to the past.  In his characteristic direct and personal writing style, he uncovers the facts, sense impressions, and dream figments of memory to tell the story- both as it happened then, and how it is happening now, playing out in his life as a parent to a young daughter. Yes, there is alcoholism, abuse, neglect, suicide- maybe you are thinking it sounds too sad, but I promise you- it isn't. This memoir has a compelling, wondrous, and uplifting magic to it, and I couldn't put it down.  This book is also an excellent companion to the author's previous bestseller, Another Bullshit Night in Suck City.
— Noelle
Description
---
When Nick Flynn was seven years old, his mother set fire to their house. The event loomed large in his imagination for years, but it's only after having a child of his own that he understands why. He returns with his young daughter to the landscape of his youth, reflecting on how his feral childhood has him still in its reins, and forms his memories into lyrical bedtime stories populated by the both sinister and wounded Mister Mann. With the spare lyricism and dark irony of his classic, Another Bullshit Night in Suck City, Flynn excavates the terrain of his traumatic upbringing and his mother's suicide. This Is the Night Our House Will Catch Fire unravels the story of the fire that Flynn had to escape, and the ways in which, as an adult, he has carried that fire with him until it threatens to burn down his own house. Here Nick confronts his failings with fierce candor, even as they threaten to tear his family apart. His marriage in crisis, Flynn seeks answers from his therapist, who tells him he has the ethics of a drowning man. This Is the Night Our House Will Catch Fire takes us on the journey of a man struggling to hold himself together in prose that is raw and moving, sharp-edged and wry. Alternating literary analysis and philosophy with intimate memoir, Flynn probes his deepest ethical dilemmas.
We appreciate your continued support!
If you would like to make a donation to help us through CLICK HERE.