Mexican Cookbook: mexican food history and Mexican every day cuisine. A Mexican cookbook with mexican food Recipes and mexican salsas. T (Paperback)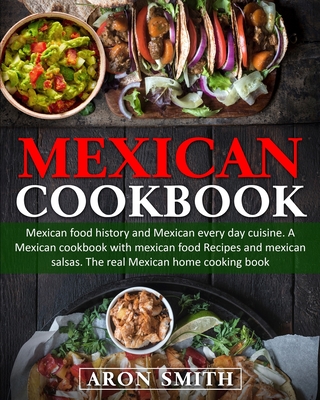 Description
---
Is Mexican food one of your favorite cuisines?
Would you like to prepare typical Mexican dishes to impress your friends or relatives?
There are many reasons to travel to Mexico; from the beaches of the Mayan Riviera to dream islands like Holbox and Cozumel, passing through the Mayan ruins of Teotihuacan to the capital Mexico City. But don't forget one of the most important aspects of a trip to this country: Mexican cuisine.

Mexican cuisine remains one of the most beloved and appreciated outside the country of origin, immediately after the Asian ones, such as Japanese or Chinese. It may be that it comes very close to the tastes of texas, it may be the inevitable presence of chili, but Mexican food has always been a huge success. The contamination of other cultures, especially Spanish, has influenced the way of conceiving the kitchen, bringing to the table dishes with an unmistakable flavor and unique taste.
....in this book you will find:
A step-by-step guide for each recipe
You will learn how to prepare recipes for breakfast, lunch, dinner and of course typical and most famous dishes (Tacos, tortillas, fajitas, quesadillas, burritos, enchiladas etc.).
You will learn how to prepare the most famous Mexican sauces
You will learn how to prepare the Mexican delicious desserts
And much more
Mexican food is a real discovery, each dish has a strong flavor and often spicy, depending on the sauces that are added to the recipe. At any time of the day you want to eat, you have several options at your disposal, from breakfast (el desayuno) to the famous tacos with their endless varieties.
Even if you think that preparing a Mexican dish is difficult, in this book you will find the recipes explained in great detail.

Even if you think finding the ingredients to cook a Mexican dish is difficult, don't worry, you'll have the shopping list in every recipe and you'll be able to find the ingredients you need in every supermarket.
In this cookbook you will find all the tastiest alternatives of Mexican cuisine, to organize an original and really tasty dinner for your guests. We will see together what are the typical dishes of this country: we will discover how to flavor your dishes, using chili but also many other spices, flavors typical of Mexico.

What are you waiting for? scroll upwards and click on the "buy" button and you will get many ideas for cooking in a really tasty and special way.