Hacking with Kali Linux: The Complete Guide to Kali Linux and the Art of Exploitation, Basic Security, Wireless Network Security, Ethical Hacki (Paperback)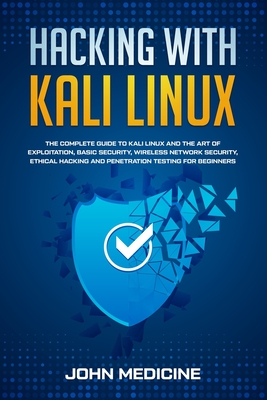 Description
---
Are you worried about the
security structure
of your business and want to
prevent all forms of attacks
on your system? You don't know where to start from or you tried without good results.. or you want become a
Hacker?
If so then keep reading.
It is not at all easy to constantly look out for the various forms of threats that are always ready to attack your system of network. It is your prime duty to analyze your network and check out for the various loopholes that are present within the system. Failing to do so might result in serious loss data and security breach.
For having a proper idea about the security threats, it is crucial to learn about the process of hacking in the first place. When you have proper knowledge about the complete process of hacking, you can easily trace out the threats for your system and also improve the security measures for the same.
You can perform various functions with the help of Kali Linux. It not only helps in hacking but also provides the users with various tools that can help in testing the networks for security vulnerabilities. It is a very process to set up the OS and can be installed on any form of system.
In order to analyze your organizational network, you need to learn about the various concepts of cyber security. Learning about the same will help in better implementation of the security measures.
There are various types of cyber-attacks and as the owner of an organization you are required to have proper knowledge about the same. This will help you in planning out preventive measures for the future attacks. As every disease comes with an antidote, cyber-attacks also come with antivirus software for preventing them from attacking the systems.
You will learn:
- Network structure and management
- Concepts of cyber security
- How to implement security measures
- Bash and Python Scripting
- Wireless network security
- Types of attacks
- Firewall security
- Cryptography and Network security
- Penetration Testing
And more...
You need to start from the beginning in order to setup a proper security system. It might take some time but do not lose hope. The chapters of this book have been arranged in a very unique way that will provide you with the answers to all your questions regarding hacking and security of network.
Hacking with Kali Linux: The Complete Guide to Kali Linux and the Art of Exploitation, Basic Security, Wireless Network Security, Ethical Hacking and Penetration Testing for Beginners will surely help you in getting started with new security measures for your organization.
So, if you are interested in the various aspects of Kali Linux along with network security, and want to feel like a Master of Security,
scroll up and click the Buy Now button