Excellent Mandalas Coloring Book: Mandala Coloring Book for Adults Images Stress Management Coloring Book For Relaxation, Meditation, Happiness and Re (Paperback)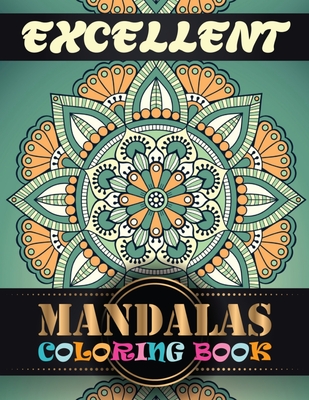 $8.04
This item is not currently available to order.
Description
---
There are countless Mandala coloring books out there but none can compare to "Excellent Mandalas Coloring Book".
We are very proud to say that we have we've partnered with the world's finest community of adult coloring enthusiasts to bring you the greatest variety of amazing mandala illustrations, perfect for every age and skill level.
FEATURES OF THIS BOOK: Huge Inspirational Detailed Amazing Contains 45+ unique, extremely beautiful, intricate, and detailed designs with nice floral and abstract elements
Ideal for intermediate and advanced level colorists
Not too simple and not too complex
Ideal for adults and teenagers
Professionally illustrated designs: all - 100% original artwork
Various types of mandalas: all circular in shape
Designed to keep you excited, relaxed, inspired, and focused
Suitable for colored pencils and crayons
All mandalas are one-sided print on white paper
We hope you'll enjoy our Large 45+ Impessive Mandalas Coloring Book Writing Blank Journal for Kids in the letter size 8.5 x 11 in; 21.59 x 27.94 cm as much as we did creating it for you. Here is a beautiful portable journal suitable for all budding songwriters and musicians.
Journal features include:
92 white pages with 45+ Different Mandala Flower Design.
Gorgeous designed cover.
Large letter size 8.5 x 11 inch; 21.59 x 27.94 cm dimensions; The ideal large size for all purposes, fitting perfectly into your back pack or satchel.
The bold white paper is sturdy enough to be used with fountain pens.
Tough glossy paperback.
Why You Will Love this Book
Relaxing Coloring Pages. Every page you color will pull you into a relaxing world where your responsibilities will seem to fade away...

Beautiful Illustrations. We've included 90 unique images for you to express your creativity and make masterpieces. Which colors will you choose for this book?

Both-sided Pages. Every image is placed on its own Every-sided page to reduce the bleed-through problem found in other coloring books.

Great for All Skill Levels. You can color every page however you want and there is no wrong way to color (even if you are a beginner).

Makes a Wonderful Gift. Know someone who loves to color? Make them smile by getting them a copy too. You could even color together
Journals are the perfect gift for any occasion.
Click The Buy Button At The Top Of The Page To Begin.