Password Keeper Large Size: 8"x 10" Alphabetical password internet organizer with a Black cover (Paperback)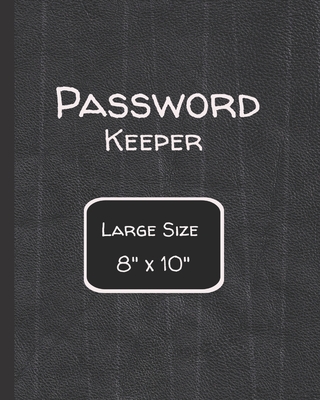 $9.19

Available in our Warehouse: Usually Ships in 3-8 Days
Description
---
Are you looking for a way to organize your passwords? This organizer notebook was
created for you to record your information in a place that is offline.
This Password Keeper Large Size 8" x 10" features:
128 pages for lots of storage
Interior right hand side Password tracker with columns for website, user name & passwords
Each password tracker page has a self fill in box, on the top right corner to place your assigned alphabetic letter, allowing you to assign more pages to any alphabetic letter that is more useful for you.
Wide line pages on the interior left hand side for additional notes, references or other details you would like to include & have handy reference to.
Additional note page section that includes some areas to sketch or detail your notes and wide lined writing area.
Having a password records book with additional notes is a great way to have your information organized & quick access to details you perhaps can't remember or recall off the top of your head.
Can also be very helpful to selected family members or your Executor to be able to reference this password information on your behalf & estate.This book has a flexible Leather Artwork Digital cover and is created for someone that prefers a larger 8" x 10" sized book that can tuck into your briefcase, bag, pocket, backpack on the go or at your desk or bookshelf at home.
Are you looking for a useful gift for someone close to you? This is an ideal gift for family or friends, as most people are up to their eyeballs in passwords and could benefit from a book geared to organize them.Don't forget to check out my authors page, which features other useful books, you just might find handy.