My Family Recipes: Write In Cookbook For Moms Grandmas Aunts to Record their Favorite Custom Heirloom Recipes - Special Events Camping Ho (Paperback)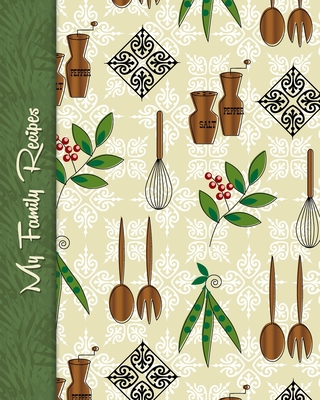 $9.76
This item is not currently available to order.
Description
---
Keep all your cherished family recipes alive, safe, and organized in one place. No more searching through your entire kitchen for Grandma's chocolate cake recipe, and the traditional Thanksgiving dish that everyone looks forward to each year. And no more reading those "hand-me-down" recipes from soiled, torn, and smudged pieces of paper.
Record up to 100 recipes in this write-in cookbook with prompts for:
recipe name
ingredients
prep time
directions
temperature and cooking time
notes
memories
Find the recipes easily by populating them into the table of contents. There are five categories, each listed at the edge of the page for ease finding them when flipping through the book. A measurement conversion chart is included for your convenience. If you have a photo of the recipe, paper clip it to the page to further document the memories.
Ways to use this cookbook:
Hand down this heirloom cookbook to your children when they leave the nest and begin making their own traditions.
Perfect for gifting at bridal showers, weddings, Christmas and birthdays - especially when you enter a few family favorites to get them started.
Fill with commonly used recipes.
Fill with recipes that are used often with your dietary preferences such as diabetic, keto, paleo, vegan, vegetation, etc.
Populate with recipes that reflect special events such as camping, tailgating, and holidays.
Description:
8"x10" size
soft cover, matte finish
114 pages, white paper
perfectly bound