Wicca Altar: How to Prepare Your Own Wiccan Altar in 5 Moves. Get in Touch and Receive Gifts to Fulfill Your Greatest Desires from (Paperback)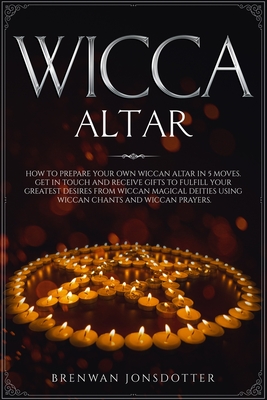 $19.99
This item is not currently available to order.
Description
---
Do you want to find out how easy it is to prepare a Wiccan Altar?
Do you know that the altar it's both a sanctuary and a portal, a place to come for healing as well as inspiration?
An altar is a place where we can both receive the blessings of the God and the Goddess as well as honor them with offerings and tokens of our love.
Since the beginnings of humanity, humans have collected tokens of the natural world, things imbued with the Goddess' energy and aspects of the four Elements. Arranging these in thoughtful ways along with our magical tools is second nature; curating an altar is the human way of mirroring the wonder of the universe.
In WICCA ALTAR, we'll talk about how you can get started creating your own magical altar spaces, and the benefits from keeping an altar.
There are so many different altars one can possibly have, and in WICCA ALTAR you will find:
how to prepare the traditional Wiccan altar with representations of the God and the Goddess, the Elements, and places for our Wiccan magical tools
the fastest way to set an elemental altar to focus on one of the elements and how we can incorporate that into our daily lives
how to gain wisdom and support from our beloved family tree creating an ancestor altar
how to get help through life's difficult moments, when we need celestial wisdom and love with an angelic guide altar
the secret way to work on coming to terms with the less favorable sides of ourselves, and how this can build inner strength, accountability, and compassion
to build a "network" of the nature spirits who'd prefer to be called the Good Folk, the Good Neighbors, or the Lords of Peace
the best way to prepare an altar to a single deity, where we can build a relationship with a god or goddess and grow spiritually and magically as a Wiccan by doing so
how altars can help us in meditation or divination
how to get in touch with animal spirits
12 of the best prayers, chants and mantras
an explanation of ritual clothing and magical tools and how they can affect our magical work
how we can make the connection with a "patron" deity
and much much more
For Wiccans, the magic and spiritual energy of a place is just as important as the magic we create and the tools we use to create it; WICCA ALTAR explores the endless possibilities of altar creation and why having a dedicated, spiritual space is so vital to following the magical path. Whether you are drawn to the natural world or to angels, whether you feel a kinship to animals or would love to form a closer bond to your ancestors, WICCA ALTAR can help you create your own unique, magical space and begin your spiritual journey today
What are you waiting for?
Press the "BUY NOW" button