Troilus and Criseyde (Paperback)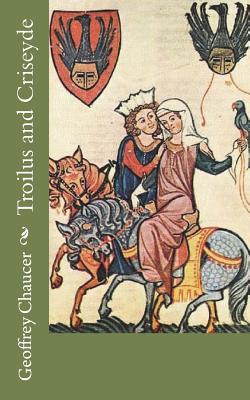 $17.24
Email or call for price.
Description
---
Troilus and Criseyde By Geoffrey Chaucer BOOK I. Incipit Liber Primus The double sorwe of Troilus to tellen, 1That was the king Priamus sone of Troye, In lovinge, how his aventures fellenFro wo to wele, and after out of Ioye, My purpos is, er that I parte fro ye. 5Thesiphone, thou help me for tendyteThise woful vers, that wepen as I wryte To thee clepe I, thou goddesse of torment, Thou cruel Furie, sorwing ever in peyne;Help me, that am the sorwful instrument 10That helpeth lovers, as I can, to pleyne For wel sit it, the sothe for to seyne, A woful wight to han a drery fere, And, to a sorwful tale, a sory chere.For I, that god of Loves servaunts serve, 15Ne dar to Love, for myn unlyklinesse, Preyen for speed, al sholde I therfor sterve, So fer am I fro his help in derknesse;But nathelees, if this may doon gladnesseTo any lover, and his cause avayle, 20Have he my thank, and myn be this travayle But ye loveres, that bathen in gladnesse, If any drope of pitee in yow be, Remembreth yow on passed hevinesseThat ye han felt, and on the adversitee 25Of othere folk, and thenketh how that yeHan felt that Love dorste yow displese;Or ye han wonne hym with to greet an ese.And preyeth for hem that ben in the casOf Troilus, as ye may after here, 30That love hem bringe in hevene to solas, And eek for me preyeth to god so dere, That I have might to shewe, in som manere, Swich peyne and wo as Loves folk endure, In Troilus unsely aventure. 35And biddeth eek for hem that been despeyredIn love, that never nil recovered be, And eek for hem that falsly been apeyredThorugh wikked tonges, be it he or she;Thus biddeth god, for his benignitee, 40So graunte hem sone out of this world to pace, That been despeyred out of Loves grace.And biddeth eek for hem that been at ese, That god hem graunte ay good perseveraunce, And sende hem might hir ladies so to plese, 45That it to Love be worship and plesaunce.For so hope I my soule best avaunce, To preye for hem that Loves servaunts be, And wryte hir wo, and live in charitee. We are delighted to publish this classic book as part of our extensive Classic Library collection. Many of the books in our collection have been out of print for decades, and therefore have not been accessible to the general public. The aim of our publishing program is to facilitate rapid access to this vast reservoir of literature, and our view is that this is a significant literary work, which deserves to be brought back into print after many decades. The contents of the vast majority of titles in the Classic Library have been scanned from the original works. To ensure a high quality product, each title has been meticulously hand curated by our staff. Our philosophy has been guided by a desire to provide the reader with a book that is as close as possible to ownership of the original work. We hope that you will enjoy this wonderful classic work, and that for you it becomes an enri.