PHP 7 News & Updates v7.0 - 7.4 (Paperback)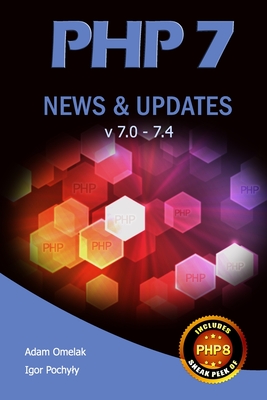 $17.24

Available in our Warehouse: Usually Ships in 3-8 Days
Description
---
The PHP evolves very rapidly nowadays. The new major version
7.0
introduced not only scalar or return type declarations and anonymous classes, but also new operators, Unicode support, latest
SSL
updates, a new approach to yields or traits. Together with all these, the new functions, classes, methods and all sorts of new constants and parameters have been added to improve the already powerful PHP language. In this book you will explore every PHP 7 version like:
7.0, 7.1, 7.2, 7.3 and 7.4
. Each of the version will contain a list of features with examples, new functions, methods, deprecated elements or any new updates to the existing packages. Every version will include a list of most crucial bug fixes with examples of the previous and existing behaviors. You will get a sneak peek of PHP 8 version as well as a speed comparison between the all stable releases and pitfalls to avoid. Covered sections and topics:
Complete guide to the new PHP 7 world environment.
Changes made in 7.1 . Updates added in 7.2.
New changes for stable 7.3.
Currently announced new features in 7.4.
Deprecated elements for each version.
New functions of each release.
Summary of fixed bugs per version.
Speed comparison.
Pitfalls to avoid in new PHP.
Sneak peek of PHP 8
This book is for the developers who already know how to code in PHP and who do know the basics of objects, classes and methods principles.
About the Author
---
Adam Omelak has developed applications and websites for the needs of the Internet for over 11 years, using different languages like PHP, JavaScript, JAVA or ActionScript. In 2011, he graduated and acquired an Internet Computing degree at the University of Wales in Aberystwyth, Great Britain. Two years later at the same university, he completed a title of Masters of Science in Software Engineering, by writing a dissertation based on Zend Framework 1. Creator of portals and on-line applications like: Funkcje.net, ZaplanujTransport.pl, GazetkiSklepowe.pl, Polish Shopping List Android and ChangeTires.net and Android app. One of his biggest applications is a web e-learning platform in the Frog Education Ltd. company made for the education sector in the United Kingdom, Denmark, Australia and Malaysia. The platform is used currently by over 12 million users worldwide. For two years he worked in a London company called Portal Technology Ltd. where he was creating from scratch a new e-commerce application: QuickLive, based on the biggest commercial technology on the market: hybris. He lived in Halifax and worked for Frog Education Ltd. for another 2 years, and he has been working there to the present day (another 4 years) remotely from Wroclaw, Poland. At the moment, he runs his own consultancy company in which he designs complex websites based on the latest technologies. He follows new trends and seeks for new solutions, mainly those which are popular in the United States of America. More information about the projects and author's work experience can be found in the following links: http: //www.goldenline.pl/adam-omelak/ https: //www.linkedin.com/in/adam-omelak-673134107