On Spine of Death (By the Book Mysteries) (Mass Market)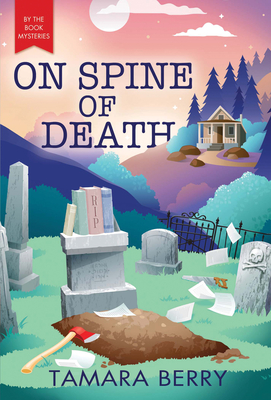 Description
---
2023 EDGAR AWARD NOMINEE, LILIAN JACKSON BRAUN PRIZE for Buried in a Good Book
"In 'Keystone Kops'–style scenes set around the morgue, a muddy mountain, and the hardware store, bones and books disappear and reappear…[On Spine of Death] is a quirky story for those who enjoy funny cozies."—Library Journal
Bestselling author Tess Harrow and her teenage daughter Gertrude have decided to make Winthrop their home. Their cabin is fixed up and now they're turning to the family hardware store that Tess inherited from her late grandfather into the town's first independent bookstore.
But when renovations unearth bones from a cold case and send them toppling—literally—onto Tess's head, the work comes to a grinding halt. With the whole town convinced that her grandfather was a serial killer, Tess has to call in a fellow horror author for reinforcements. Together, they'll come up with a perfect story to make all the clues fit…and solve a mystery more than thirty years in the making.
About the Author
---
Tamara Berry is the author of the Eleanor Wilde cozy mystery series and, as Lucy Gilmore, the Forever Home contemporary romance series. Also a freelance writer and editor, she has a bachelor's degree in English Literature and a serious penchant for Nancy Drew novels. She lives in Bigfoot country (aka Eastern Washington) with her family and their menagerie. Find her online at www.tamaraberry.com.
Praise For…
---
"Berry's sequel to Buried in a Good Book is a quirky story for those who enjoy funny cozies." — Library Journal

"A prospective bookstore owner learns that renovations can be murder…juggling one snarky sheriff, one junior G-man, and three skeletons [attempts to overwhelm] Berry's seasoned heroine." — Kirkus Reviews

"This cozy mystery zips along at a fast pace, filled with twists and turns and red herrings aplenty, with never a dull moment... With an entertaining mixture of humour and mystery, nonstop action and a cast of quirky characters, this will appeal to fans of fun, bookish cozy mysteries." — Mystery and Suspense

"Funny, smart and moving." — Criminal Element