The Beasts in Your Brain: Understanding and Living with Anxiety and Depression (Paperback)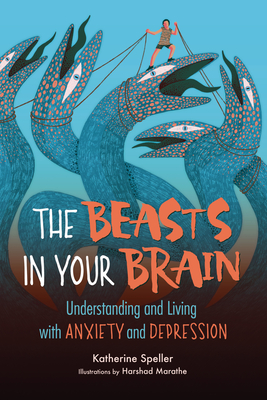 Staff Reviews
---
An accessible primer for teens on mental health that speaks directly to them, rather than around them or down to them. Keep a copy in your house, in your library, or in your classroom—it's a helpful, useful, and necessary tool.
— Nicole
Description
---
It can be hard to find the words to describe the icky feelings that seem to come from nowhere and sap all your joy and energy. You can tell that your brain just isn't pulling off the same tasks as others, and you're constantly bouncing between feeling nothing and feeling the weight of everything. It's hard enough to admit that you're struggling, but how do you even begin to navigate getting help when it feels like there's an enormous gap between you, your peers, and the adults in your life who keep saying they want to support you but just don't seem to get it?

This is not your doctor's dry health pamphlet or a preachy self-care listicle. The Beasts in Your Brain is a guide and companion equally for you and your loved ones, here to provide that essential first dose of information, understanding, and validation about mental illness and how it affects the young people of today. This book knows how much harder things are for you and your generation, how out-of-touch much of the advice out there is (after all, how are you supposed to "just unplug" when more than half your social life is conducted online?), and how identity, circumstances, and stigma can affect your experiences.

Though they might be scary or seem unstoppable, the beasts can be defeated. It will be hard work, but it is not work you will ever have to do alone. This book will be your first partner in your battle against the beasts, reminding you that there's always hope and humor to be found in openly talking about the realities of living with mental illness. Together with the support of your loved ones and the practical knowledge and tools you will learn in this book, you can win this fight.