From Ledgers to Ledges: Four Decades of Teambuilding Adventures in America's West (Paperback)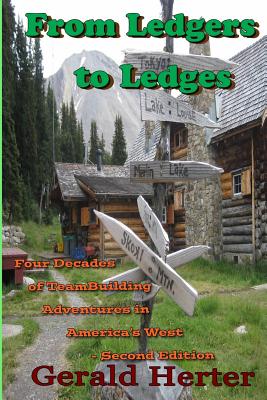 $10.91
This item is not currently available to order.
About the Author
---
Gerald Herter grew up in the suburbs of Chicago, Illinois, graduated from the University of Wisconsin with BBA and MBA degrees in accounting, and achieved the status of Certified Public Accountant. He served in the United States Army as a field artillery officer in Germany and Viet Nam, and then worked for several years at Arthur Andersen & Company in Chicago. Gerald met and married his wife, Lori, in the Chicago area. They moved to Southern California several decades ago, where he became associated with what would become HMWC CPAs & Business Advisors. He served as Managing Partner for many years, as well as President of the Americas, Asia & Australia Region of Integra International, a world-wide association of accounting firms. He also wrote and edited Integra's Audit & Accounting Alert newsletter for several years, and was a Contributing Editor for Accounting Technology magazine. Gerald and Lori still live in Southern California with their cat, Jasmine. They are long time members of Tustin Presbyterian Church, where Gerald serves as an elder. He also serves on the Boards of Directors of Family Promise of Orange County, a homeless shelter, and New Theological Seminary of the West. Gerald and Lori have traveled extensively in the U.S., Canada, Europe, New Zealand, Australia, and Tahiti. Gerald has had travel articles published in the New York Times, Chicago Tribune, Los Angeles Times, and Celtic Life International magazine. His prior book, My Celtic Journey, is a series of stories recalling travels to the Celtic lands of the British Isles and glimpses of the Celtic world in North America.