Nena (Paperback)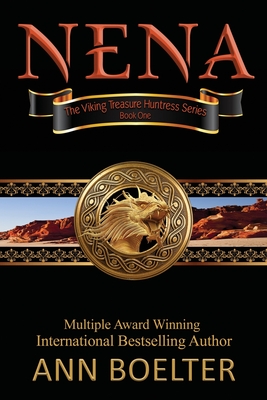 $17.19

Available in our Warehouse: Usually Ships in 3-8 Days
Description
---
RAW...GRITTY...INTENSE...ESCAPE TO THE ANCIENT WORLD OF NENA
(Sleek new cover, same great read )
GOLD MEDAL WINNER - 2019 READERS' FAVORITE INTERNATIONAL BOOK AWARDS2019 B.R.A.G. MEDALLION HONOREEVOTED TOP 4 - "BEST VIKING ROMANCES" ON GOODREADS (February 17, 2020)
900 AD. Under the fiery Middle Eastern sun, two enemy worlds collide.

JARL, a powerful Viking leader, returns to the rich lands near the Caspian Sea at the helm of his magnificent new longship, The Treasure Huntress. His forces cut a wide swath through the land, taking everything of value-capturing or killing any who stand in their way.
NENA, daughter of a regional war-chief, is an accomplished warrior in her own right. Proud, strong and fiercely disciplined, her tribe has dominated the territory for centuries, and they fear no opponent-certainly not the beast-like, invading Northmen.
In the smoldering aftermath of a grueling battle, they find themselves in unfamiliar positions-Nena as a captive-Jarl wanting something he cannot have. A fierce clash of wills ensues. Torn between passion and prejudice, conviction and taboo, love and obligation, each is forced to question everything they knew and everything they were sure they wanted. But realizing their heart's true desire is not enough. Their people are still mortal enemies. To be together they must be willing to sacrifice everything-even their lives.
NENA, Book One of The Viking Treasure Huntress Series, is an intense, riveting adventure of power, passion, and love.

ABOUT The Viking Treasure Huntress Series:
The books in this series center around the current captain of the mysterious Viking longship, the Treasure Huntress, and, at the end of each story, the next captain is revealed from the supporting characters. Each novel is set in a new location and is its own unique story, driven by the captain's personality, ambitions, and desires. While the books are all written to be read and enjoyed as standalones, for the best reading experience, they should be read in order. All are romance based and love scenes are tastefully erotic. At this time, seven books are scheduled to be released in this series.